Safe Buy is a Polish start-up dedicated to e-retailers and e-shoppers. The initiative is based on several years of experience and research of the European e-commerce market, which showed the weakness of traditional certificates. Instead of conducting legal audits, SafeBuy offers a voluntary adoption of uniform online trading standards, summarized in the Code of Good Practice in eCommerce. Participants of the program are committed to applying to the Code and receive set of appropriate templates of legal documents, which in a clear way present consumers' rights. Uniform standards and transparent sales conditions have a positive impact on the comfort and confidence of consumers who pay more for online shopping.
Livia was responsible for UX, UI and web design and visual communication from concept to delivery as well as marketing activities during the first quarter from the start-up's launch. She designed web service, CMS panels, official sign and certificate of the company, legal document templates, created cartoon brand characters, series of banners, newsletters and ads for promotional campaigns. Textual content prepared for the project was preceded by market research and competition analysis to adequately correspond to the two groups of recipients: Polish e-retailers and their customers.
Client:
Safe Buy Sp. z o.o. Sp. k.
Skills Needed:
Market research
UI design of CMS panel and client's management account
Design of website, landing pages, widgets and banners (Illustrator, Photoshop)
Branding: logo, certificate, brand characters, document templates design (Illustrator, Photoshop)
Marketing online: press releases, e-mail newsletters, banner display campaigns
Content creation: writing articles and descriptions for corporate website and services
Year of Project:
2015
Website:

SafeBuy Label
The eCommerce Fair Play label confirms company's true identity and ensures visitors that they are buying from a reputable e-retailer, who applies to fair and transparent rules in eCommerce. The sign had to include SafeBuy's official logo and be clickable to lead to a dedicated page in Safe Buy's registry. Livia included a characteristic hand symbol to indicate users that they can click on the label to find out more.
Variety of the label's colors and sizes allow retailers to implement version that best matches with layout and color palette of their online store.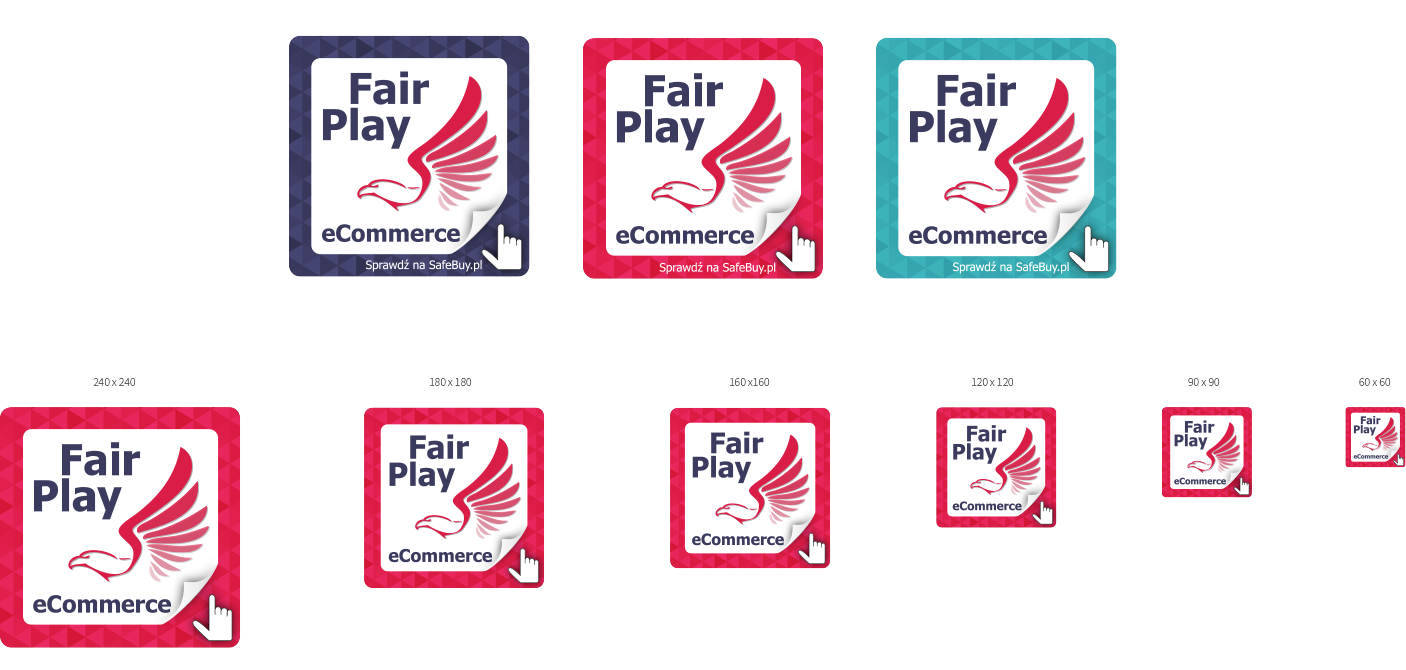 SafeBuy Widget
eCommerce Fair Play label can also be installed on a website as an interactive widget featuring the most important terms and conditions of shopping in particular store. The information includes, for example, available payment and delivery options.
Merchants' and Shoppers' Zones
Since eCommerce Fair Play Program is dedicated to both online merchants and shoppers, the website was divided into two zones devoted to those two groups of recipients. Pink color was selected to mark retailers' zone and blue assigned to customers' pages to simplify navigation through the service and appropriately funnel traffic.
SafeBuy Characters
Color assignment also applies to cartoon characters symbolizing e-shoppers and e-retailers. The mascots were used in communication materials to better illustrate issues that can be solved with the use of eCommerce Fair Play Program.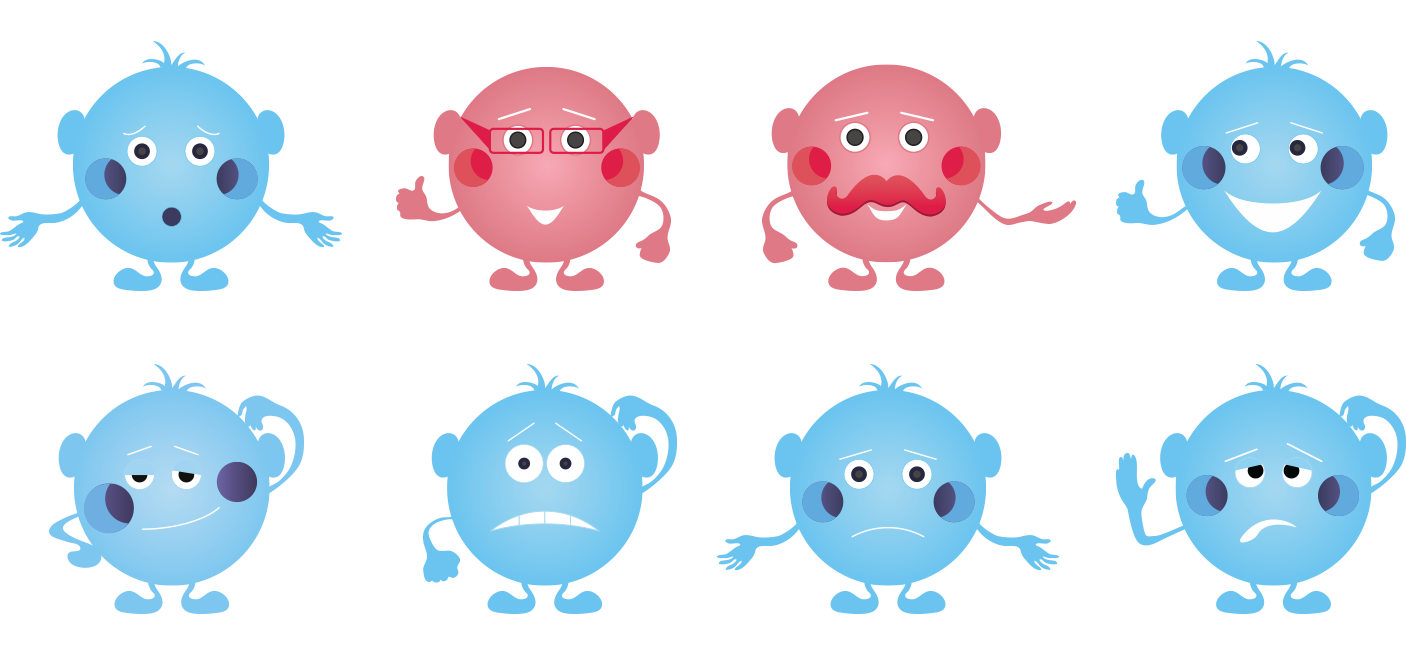 Presentation for Online Shoppers
Slide show presenting values of eCommerce Fair Play Program to internet shoppers was created with the use of funny characters and meaningful illustrations to explain some issues in a simple and eye-catching way
Registration Page for Merchants
Pages for e-retailers were designed to generate conversions: registration and paid subscription to the program. They feature benefits of joining community of trusted vendors, including bigger sales thanks to gained trust of users. New members can also take advantage of special promotion and receive additional channels for their products' advertisement via services of SafeBuy's partners.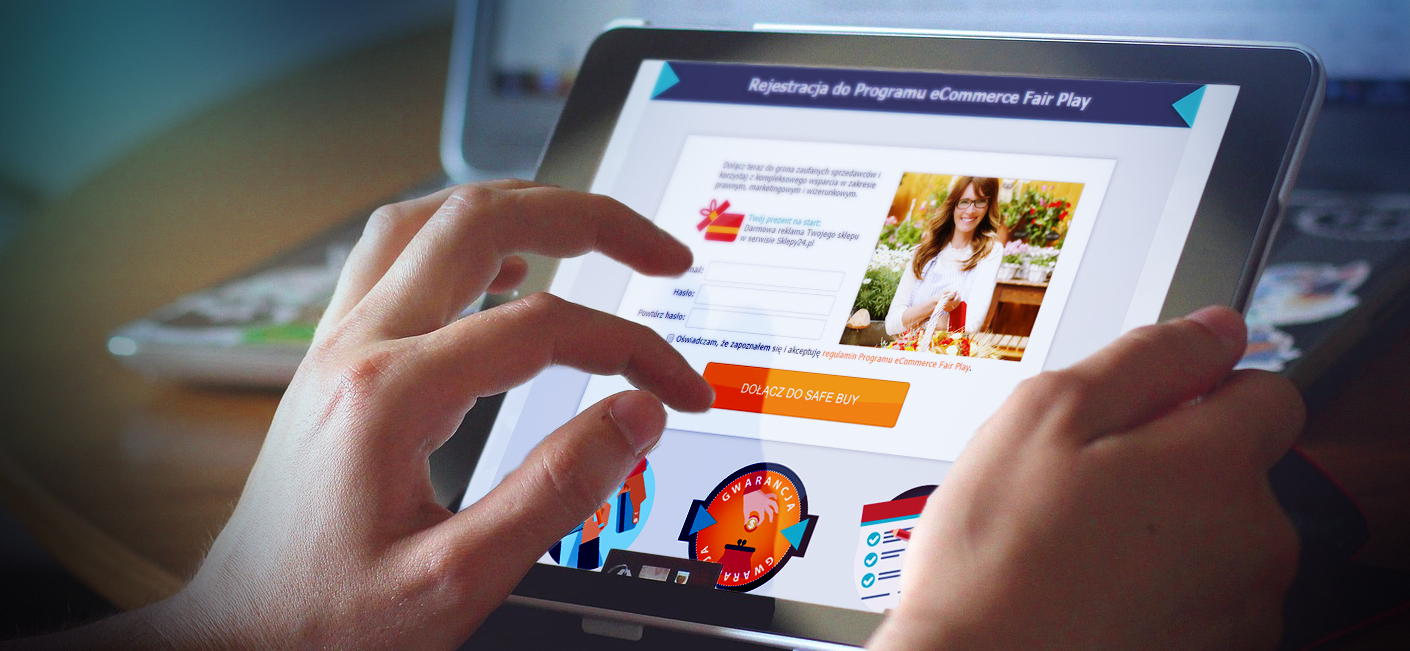 E-mail Campaigns
One of the main channels of the program's promotion among Polish e-retailers were targeted newsletters to subscribers of partner services.