The most often recommended route from the US to Mexico runs through Baja California Peninsula, separating the Pacific Ocean from the Sea of Cortez. It is the safest option for those who travel in own vehicles, while offering an abundance of noteworthy attractions. Tourists appreciate the heavenly landscapes of wild beaches and charming old colonial towns. Enthusiasts of an off-road riding enjoy the desert trails between huge cacti. Moreover, this is where for 4 months in the year you can see the gigantic gray whales, sea turtles and dolphins. Baja California is also a house to over 300 bird species, including brown pelican. It all sounds great, but to get to the mainland of Mexico from there, you have to take a ferry. Based on our experience, we explain how it works and how to prepare for it.
You have 3 options to cross the Sea of Cortez
From Santa Rosalia to Guyamas > the shortest and cheapest route, from the middle of the peninsula
From La Paz to Topolobampo (about 8 hours cruise with Baja Ferries)
From La Paz to Mazatlan > the longest (10-15 hour cruise) and the most expensive, but at same time probably the most popular route because you land the furthest south, in "the safest" zone, in a pretty port town of Mazatlan.
We chose the 3rd option and can share our experience from this cruise.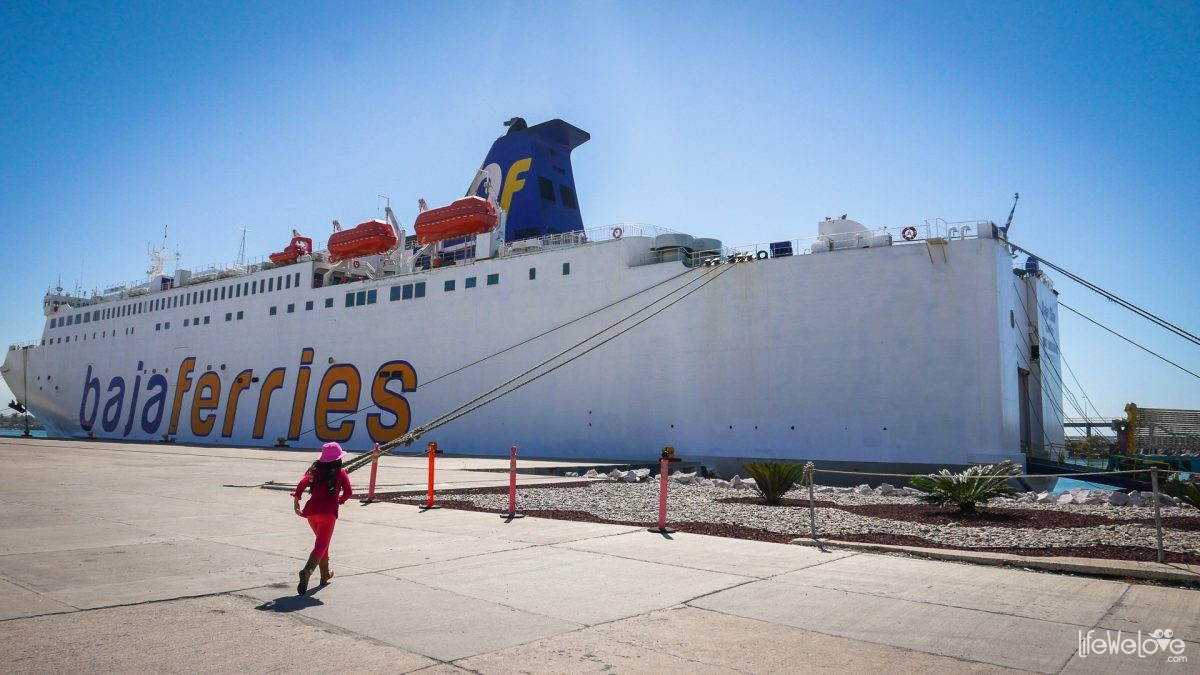 Where is the harbor?
Port in La Paz is located about 19 km North from the city center.
How to buy a ticket?
It's recommended to buy a ticket and go through all required procedures a few days in advance.
On the website of Baja Ferries you can see current prices and book your seat, but information is only in Spanish and not very clear. We decided to make reservation in the harbor offices and get more familiar with the terminal and check-out procedures at the same time. We have heard the tickets can also be purchased in some points in the city of La Paz, but we have not encountered any.
Baja Ferries price list in August 2017:
| | | |
| --- | --- | --- |
| Type | Price in Pesos | Price in USD |
| Person | $1 240 | $70 |
| Motorcycle | $1 180 | $67 |
| Cabin for 4 | $990 | $56 |
| Motorhome | $8 660 | $490 |
| Pickup with a cabin or mini motorhome | $8 360 | $473 |
In order to buy a ticket in the harbor office you have to posses a vehicle import permit.
Step by step what to do:
1. Park your motorbike in a designated area in front of the ticket office (we didn't pay for it, but some people told us they had paid 26 pesos; maybe it depends if someone approaches you and charges; we didn't see any official information).
2. The vehicle import permit can be obtained on the border or in the harbor. We got it in the port, since we were not sure when entering Mexico whether and when we would be taking a ferry. The building where you can receive the document is located approximately 200-300 meters left from the ticket office and terminal. You will spend about USD 56 for the paper work plus deposit USD 200 – 400. You can pay it in cash or with credit / debit card.
Deposit prices currently are as follows:
USD 200 for vehicles manufactured until 2000;
USD 300 for vehicles manufactured from 2001 to 2006;
USD 400 for later ones.
You will also need photocopies of the following documents:
vehicle registration certyficate;
passport;
tourist card.
You can bring photocopies with you or make them on the site for a small fee. The deposit is refunded after leaving Mexico, but you must taken care of it before crossing the border. We were advised to pay the deposit with a card, because the amount returned to your account will be calculated according to the same exchange rate.
3. Now you can buy a ticket in the office in the central building, unless you have already purchased it online. You can buy a cheaper ticket just for the cruise, which is equivalent to spending 10 hours in a movie theater or at a lobby table. The more expensive option includes a private, air-conditioned cabin.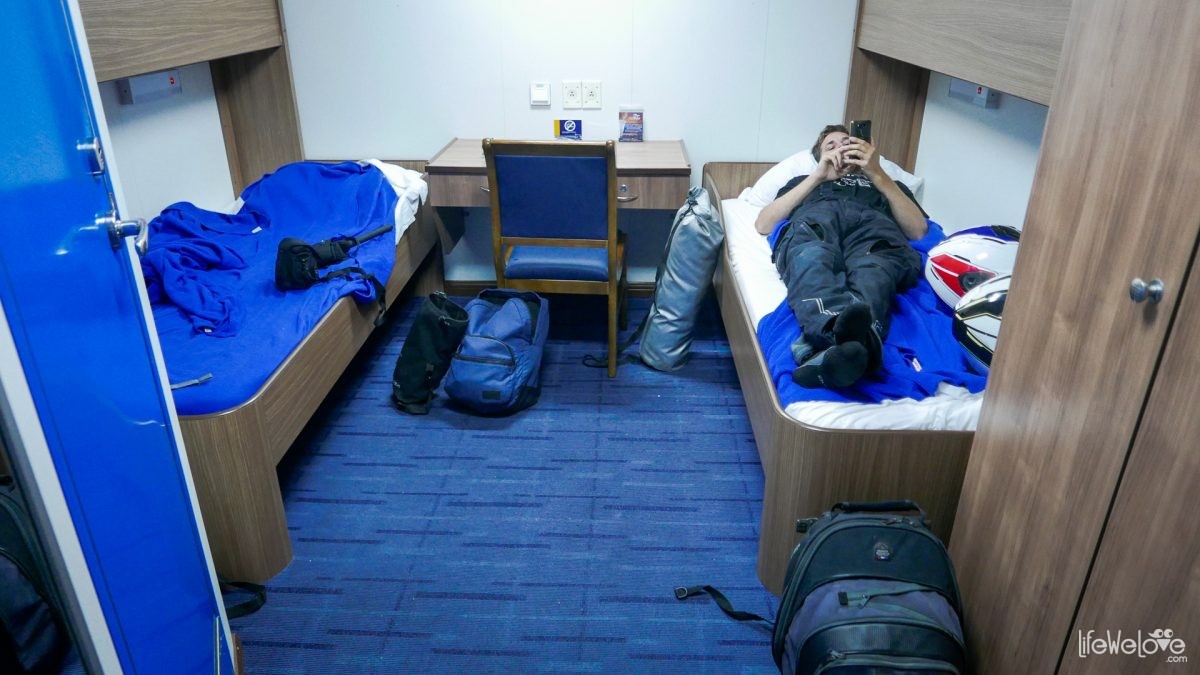 Ferry ride
It is recommended to arrive to the port 3 hours before takeoff. The cruise will last about 10 hours.
If you travel in two on one motorcycle, you will need to separate: the drivers ride to a parking lot and the passengers go on board through the terminal.
Tip

Prepare the stuff you want to take on board earlier, so that when arrived you can take it with you easily. If you are a couple, divide your baggage into handy parts for each of you. You will be standing with all that in line not once. After parking a vehicle on board, it gets locked and you can't go back to it during the ride. It's good to have ticket and documents always at hand, a driver e.g. in a tank bag.
What a motorbike driver does:
Rides to customs clearance. Customs may look through baggage, check passport and whether the VIN on the import permit agrees with the VIN of the vehicle.
Has to weigh the vehicle on the way to ferry (will be pointed where to go) and pays for it. For our BMW Dakar F 650 GS with luggage we paid 88 Pesos, which is about USD 5.
Gets in line for boarding the ferry 3 hours before departure.
When boarded on a parking lot, motorbike should be secured with special stripes if they are available. Their number is limited, so some bikers bring their own stripes.
What a passenger does:
Takes a seat at the terminal, where may spend even 2 hours (because drivers get in line for boarding even 3 hours before departure).
Goes through customs having all luggage on him / herself. The baggage may go through a random check. There's no luggage restrictions like at the airport, you can have anything apart from any generally illegal stuff (drugs, weapons).
Goes on board with the rest of passengers through a designated path, to the hall with a TV room and further to the general, central hall. This is where the drivers also enter, so it's a good location to set a meeting point.
Passenger cabin or cinema hall

If we paid for a private cabin, the key may be collected from reception at the main hall. There are 2 bunk beds in each room, so it can fit 4 people. Some travelers find companions to share the costs. The passenger cabin is minimalist, neat and relatively comfortable, with air conditioning enabled. There are also power outlets, a small bathroom with hot shower, table, chair and lockers. The night in the cabin was quiet and we slept well. It's a big expense, but given that for a few days we lived on a wild beach without a shower, this momentary luxury was needed to refresh, rest and recharge for the next part of the adventure.

Passengers who have not bought seats in the cabin may spend the night in a movie theater on seats similar to airplane seats or in the corridor at the table. If it's a night cruise and we're going to sleep somewhere in the corner, it's worth remembering that we carry all the luggage that we do not want to leave unattended. This is also one of the reasons why we decided to take a cabin where we can always leave helmets, motorbike gear and bags.

Dinner

The price of the ticket always includes one meal on board, served in the restaurant usually right after the passengers are boarded. You will be informed about starting serving the meals from speakers, installed also in cabins. Have in mind that the restaurant may be closed after 2 hours, so don't postpone your dinner until the last moment. Our dish consisted of a meat portion, a choice of pork, beef or chicken, rice and beans and tortillas, water / soda and dessert. The dining area has a bar and a TV room where movies or music videos are displayed. You can also bring some snacks with you onto the ferry, which may be a good idea as the cruise is long and the meal not necessary fulfilling for everyone.
Wild beach Tecolote

22 kilometers North from the harbor the Tecolote beach is located, where many globetrotters awaiting the ferry like camping. The beach is pretty, sandy, surrounded by mountains on one and the sea on the other side, with a plenty of space for free camping. Take extra supply of water, food and toilet paper, since there are no stores or public toilets near by. There is a restaurant not far by the shore, but it's not always open.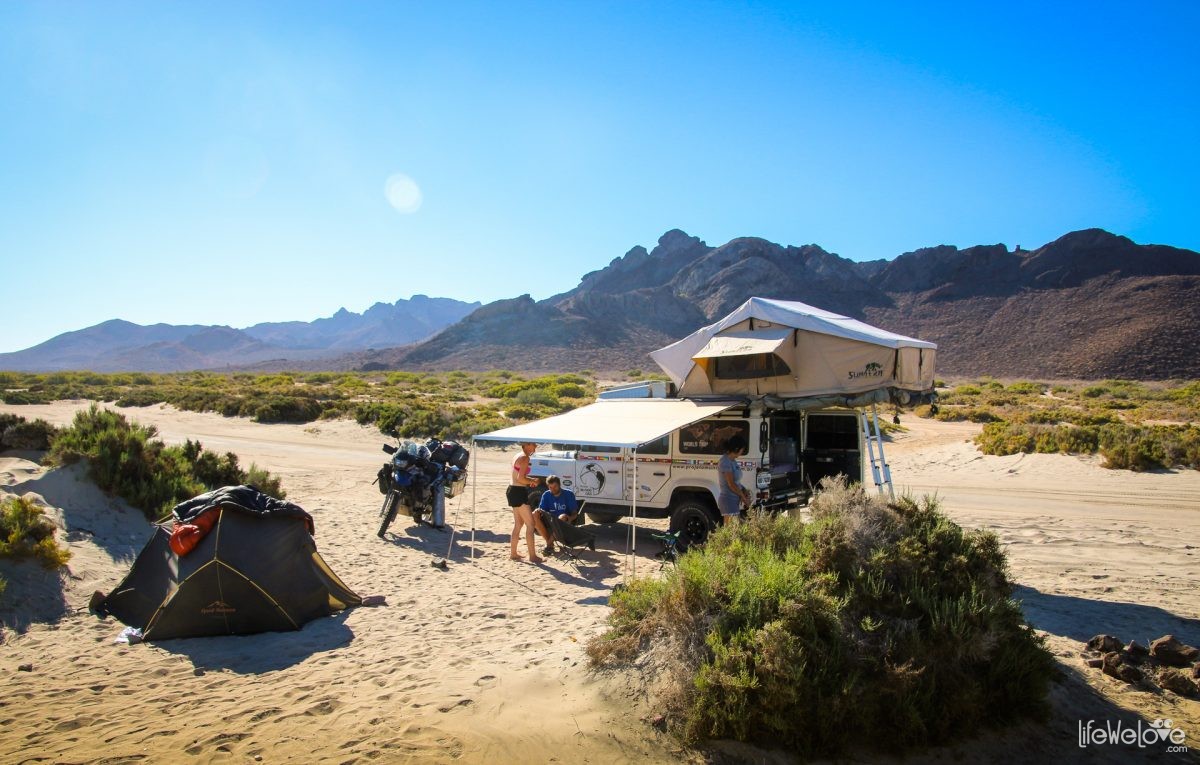 Landing in Mazatlan
Getting off the ferry is quite misleading, especially if we travel in two on one bike. As a passenger I still can't go with a driver and ride together. I just follow the string of people, dragging all the helmet, gear and luggage with me. I hope to get to some designated car park and passengers waiting room, but there's no signs, information, nor view of vehicles leaving the ferry. After walking some distance I finally get to the street with a taxi stop (by saying taxi I rather mean pick-ups with benches installed on the back) and guards station on the side. A bunch of people gather there, but the place lacks in seats, shelter or proper parking lot. I talk to the guards, they say to wait there until I see my motorbike. So I seat on the curb, covering my head with t-shirt to protect from the sun. 5, 10, 20 minutes, I start to worry, but hey, we're in Mexico! Everything takes more time here, I have to be patient. And finally I see them! Joki on our Meteor approaches me, I wave my hands from a distance to make sure he sees me. It worked, we keep going further South!