Estimado poseedor del Libro de Viaje, probablemente estés en Chile, cerca de Puerto Montt. No sabemos si eres la misma persona que nos sacó el bolso con las cosas de camping de nuestra motocicleta. Si es así, probablemente ya te diste cuenta que no harás ninguna fortuna con nuestras pertenencias ya bien gastadas, aunque para nosotros hayan sido la esencia de una existencia nómade. La carpa fue nuestra pequeña casa portátil, que viajó con nosotros por el mundo los últimos dos años. Fue parte de la realización de nuestro sueño, por el cual sacrificamos todo. Pero el viaje nos ha enriquecido con tantas bellas experiencias que la pérdida de las cosas materiales no nos afecta tanto – sí el libro de tapa negra, cuidadosamente envuelto en celofán, es algo muy único, invalorable, para nosotros, y significaría muchísimo si nos lo pudieras devolver.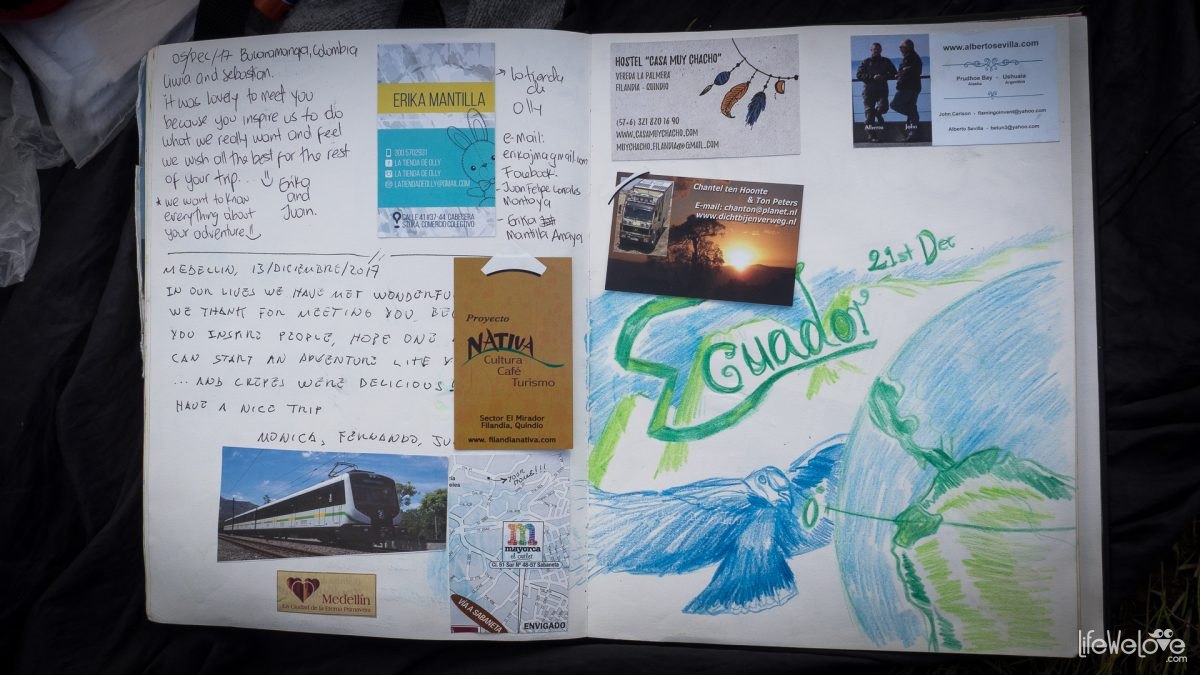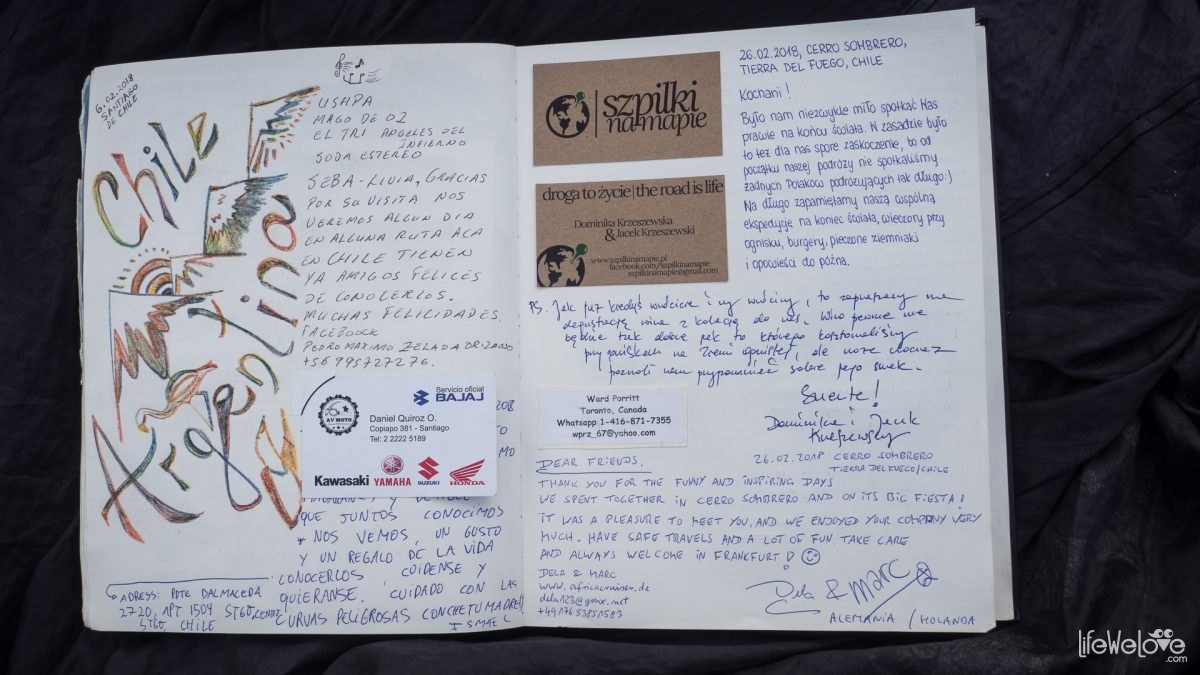 El libro ha estado con nosotros desde el comienzo del viaje. Tiene saludos de amigos y familiares en Polonia, y mensajes de muchas personas queridas quienes se nos cruzaron en el camino. Es una especie de diario, un registro visual de nuestro Viaje TranscontiMental, que aún no termina.
Quizás te ha llamado la atención en cuantos idiomas está escrito el libro, cuanto corazón y alma de personas de distintas culturas y religiones, de diferentes edades, contiene. Este libro quedó en tus manos por una razón, pero no puede quedarse ahí. ¡Deja que vuelva a nuestras manos! Ese actuar sería lo más especial de las vueltas de esta historia.
—-
[ENGLISH]
Dear Holder of the Travel Book, probably you are in Chile, close to Puerto Montt. We don't know if you are the person, who also took away from our motorbike a bag with our entire camping equipment. If so, you have probably already noticed that you won't make a fortune on this worn out gear, while for us it was our house, an essence of nomadic existence. The journey we've undertaken has enriched us in so many beautiful experiences that we can accept the loss of every material thing, however the book in black cover is something very unique and priceless to us and we wish it would return to us.
The book has been assisting us from the very beginning of this journey. It includes farewell wishes from many months ago of our Friends and Relatives from our homeland of Poland as well as entries of many amazing people, with whom our paths crossed on this travel. It is kind of a journal, visual story about our "TranscontiMental Journey" which still goes on.
This book has got into your hands for a reason and can't be hold. Let it return to us. This act will be the most special entry that has ever been made on the cards of this story.