He said he would take me to the end of the world and he kept his word, trickster. I remember us one and half years ago packing our belongings in his family house in the countryside, close to Jelenia Góra in Poland. The whole bed was covered with little piles of clothes, which we were constantly reevaluating, hoping to reduce. We were about to ship our motorbike along with all the necessary baggage to New York where our long-waited adventure would start. Back then I did not believe that we would really drift so far away. Through both western continents, 13 countries, and 66 thousand kilometers until the very end of Argentina in South America. Now, Antarctica has never been closer.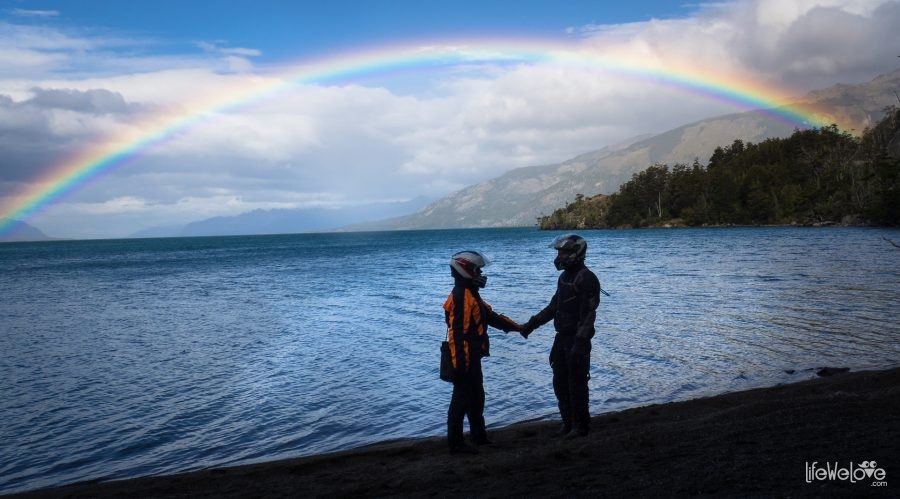 In this post, I won't be writing about everything that happened during this journey. It won't be about the places and scenery that moved us to tears, the routes that made me tremble with fear, the animals, plants and wonders of nature, only previously seen in National Geographic. Not about the people, with whom our paths have crossed and who so many times opened their homes to us, offering us rest whether in their domestic peace or family buzz, nor those who invited us to sumptuous feasts or shared a simplicity of a freshly picked coconut. I won't be writing here about all the encountered travelers, fellow motorcycle riders, brave cyclists, cheerful families and couples riding across the world in their motor-homes, backpackers in torn jeans, artists and wanderers, vagabonding for years still looking for their place on the planet. Or even about the fascinating stories circulating around the bonfire that so strongly unite the unfamiliar people all sitting around because it served the atmosphere to open our lives to each other under an endless dome of shimmering stars. After all, there is something that bonds us. We all travel, from somewhere, to somewhere, for something. We all share the deep seeded awareness that warms up on the inside, growing only to realize that you are fortunate to experience something so uniquely beautiful and special. There will be time to tell about it all. Many of these moments I still compose in my head, sorting and transforming them like digital copies and fragments accumulating in terabytes on my portable drives. Maybe it will be easier to start from the end; the end of the world, to which he took me. Easier to start with our own little Armageddon that happened there. Like every adventure we've experienced on this journey, it likely happened for a reason.
In the Land of Fire, oh mother, we're burning!
"Joki, what was that?! Have you lost your mind? We could have burned there!" I asked, staring at the smoldering clumps of grass that grew around the wooden shed, which we called a shelter for the night.
That night in Argentina's Tierra del Fuego, the Land of Fire, alongside route J which starts about 100 kilometers north from Ushuaia. The local guide claims the road takes insiders to the real end of the world which is by far the most beautiful one. It started to rain when we met him next to an expensive hotel that we couldn't afford, so he took pity on us, giving a hint about a little cottage hidden in the woods used by local fishermen.
"I don't really know, it happened so fast. You wanted me to warm up the shed!" My beloved one answered.
"Yeah, but not like that. I didn't exactly picture us standing in the flames! Why on Earth did you pour gasoline into this little furnace?! I told you so many times to stop playing with fuel, you pyromaniac!"
"The worst part is that the whole canister has burned out too. We needed that petrol. But the heck with canister, did you see that?! My pants were on fire and you didn't even do anything!"
"Holy cow, what was I supposed to do, I was shocked! You should have rolled in the wet grass! Thank god it's raining and the fire quickly went out. Are you alright? Any holes in your clothing?"
"Not even a trace. Seems to be a good material, not flammable or something."
"We're so fortunate that the fire went outside the hut and it's still in one piece. Oh gosh, imagine our mums seeing it."
"We're obviously not saying a word about it. After all we're safe and sound. Only that matters."
"I know, but you can't deny you have just made a story of the year! This will be something to share after our return."
"Oh, come on. Don't tell anyone about it, I will look like an idiot."
"Well, sorry Joki. You should have thought about that before. You screwed it up. And you know what, maybe it's a punishment for annoying me so many times when you were fooling around with gasoline. Maybe at last you got your lesson! You know that when you don't listen to me, life quickly proves you wrong."
"You witch!"
We look at each other with half-smiles, as always at the moments when Joki gets punished by fate for not listening to his woman. And a woman is always right, even if she's not.
"If you will be telling about it, I will say what you've done on the desert in Utah," Joki threatened with his usual line. Trickster came up with his usual weapon, however weak it may be.
"Say whatever you like. Every practical person would understand my actions. And you know what, you should feel ashamed to point that out to me. You, when you wag your pistol, can even paint with your pee on snow or sand whenever and wherever you want. But me, a woman, having to pitch myself in a squat even during a sandstorm. I even need to find some darker spot for it, so that moonshine wouldn't reflect on my rear. To poke fun you say: be careful, don't go too far, there may be a bear or cougar lurking. I'm not even mentioning howling coyotes, they are like brothers to us now. Before I can even leave the tent, also in the middle of the night, I have to remember to look in my boots and make sure no tarantula, scorpion, or viper decided to inhabit there. And I'm telling you, not every woman is even able to do her thing in the blossom of nature. Like Evelina's friend, when she felt the need her husband had to leave the picnic at the park to drive her home to the toilet across the entire city because she can't pee behind a bush. Never. That's the way she is, so I guarantee you that not every woman would handle everything I had to on this trip." I began to chatter more and more emotionally. "Including Joki this dirt in my nails, which I don't even have time to clean with a stick, because before we gather enough wood for fire it's already too dark. Although here in Argentina, days are exceptionally long. Let me add the fact that I have been bathing myself for a few days with nothing but baby wipes. Not to mention my hair, glued together by yesterday's soup that splashed in my face when the Patagonian wind blew in its f…reakin style! And make-up? I don't even remember how to do it. Besides, what for? I'm in my helmet most of the time. This helmet not only rips out my hair, but also deepens my wrinkles. To stay smooth and pretty, my grandma has been sleeping straight on her back since the dawn of time. You know, the so called king position. And me?! Have you seen my cheeks in the helmet, how squeezed they are and how many hours throughout the day I form my face like that? Now, even when I take off this headgear, I have these explicit lines, look here and there!" I stroked my face with a troubled look. "My sister will collapse when she will see me back at home!"
"What are you talking about? What wrinkles? I don't see anything. You look pretty, rosy cheeked like that, hardened." Joki sent his joker smile.
"Yes, yes, and I have so much sand in my hair that you can't even see how greasy it is. You've been comforting me like that before, my dear. But you know what, it all makes sense to me now, this journey is my destiny. I've been preparing for it since my childhood. All the trails my daddy took me on where I would return with blackberry spines stuck in my bare calves and river mud stuck in my shoes. But my father would serve me concoction made of carlina acaulis, light incense and ring a Tibetan bell to clear all the bad thoughts out of my mind. And he was right that it would all be for the best. After all, when nettles sting, it's good for your health."
"Exactly. Look, when was the last time we were sick? Do you even remember what a flu is? You've had more fresh air and Vitamin D than you've ever had before."
"That's true. And we eat a lot of garlic. It keeps even mosquitos away. Just like the German traveler said, do you remember? Healthy life is so simple, the best medicines are free and within everyone's grasp. But it turns out, using them is the most difficult thing for modern people. I can't imagine life without an everyday contact with nature. When we used to live in the big city, I walked to the park almost every day, I just had to." Saying that made me realize how grateful I am to my parents for all the walking and hiking together that taught me how to benefit from contact with nature. That's so good they decided to raise us this way, considering how much easier it is to leave your kid in front of cartoon channel.
"The forest here is amazing." Joki brought me back to the here and now.
"Ah, I'm enchanted too! I like it very much. Especially these mysterious trees, all mossy. I feel like some forest nymphs are about to emerge from behind these bushes."
"So tell me Liveczka, was it not worth it to overcome these few inconveniences to experience all the moments and places that moved you to tears? Oh girl, recall all the places I took you! You were so astonished I had to pinch you to ensure it wasn't a dream. So how about it, wasn't it all worth it? Don't you feel like you're the lucky one?"
"Oh yes, it was worth it. It truly was." I nodded and transferred in my imagination to these memorable sceneries, which were like paradise on Earth. And I was there dancing on bare feet, with my hands spread, rising songs from my heart, praising the universe, life and love that has taken me there. "Joki, I always knew we were written in the stars for each other." I laughed saying it as the words sounded like taken out from some horoscope in TV newspaper. "Our story has been so incredible from the beginning. And now look, we're standing together at the very end of South America, so far away from home. It's furthest you can get, it's impossible to ride any further. Dusted, unwashed, but happy. Almost a stone's throw from Antarctica. In a moment we will make our little nest in the fishermen' hut that luckily hasn't burned down. You know, I'm proud of both of us. Before this journey you were… would you say you were already experienced in off-road riding?"
"Not really." Joki said without hesitation.
"And look what routes you did, skills you gained during the whole expedition!"
"And you with me."
"And I with you. Well, you see how much I trust you Joki. I ride with you even with my eyes closed. I have mastered the art of sleeping without banging your head. You don't even know when I'm having a nap on the back seat!"
"Are you saying you lay your head on the back bag? Ha, so you sleep there in the king position like your grandma!"
We burst out laughing. Heh, maybe after all I'm doing something to reduce these wrinkles!
"But getting back to the subject" I carried on because I felt it's a thing worth saying "Now I can confirm without hesitation that I would have never in my life embarked on such journey with some mindless show pony. When riding with you I can see how careful and attentive you are. Seriously, I really appreciate it Joki. We both performed well."
"Sure thing. Together we can achieve everything!" Joki hugged me.
And then I got to conclusion.
"We set off without great skills, sufficient money, without the certainty whether your injured foot would even make it fine and whether I won't go crazy on the way and we made it. After 17 months of riding together we got here, to Tierra del Fuego! This is our moment! Let me officially raise a glass (or rather this thermos of tea)!"
"For the Life We Love!" Joki caught the flow.
"That's right, for the life on the trail of adventure, the best one!"
And two plastic cups hit each other in the dark woods by the fisherman's hut, at the end of the world.
…
"Okay Livia, I'm really hungry. You think the water that's left will be enough to cook these disgusting wieners?"