In the process of preparation to our motorcycle journey through Americas, a significant thing to do was changing the rear suspension in our motorcycle BMW F650 GS Dakar. The original shock has already had some mileage and I'm sure that it wouldn't handle all our luggage and two people for the entire trip and on various roads. Manufacturers by default configure a shock to the driver weighing about 80 kg with a regulation that indurates the spring for driving with a passenger and medium-size luggage.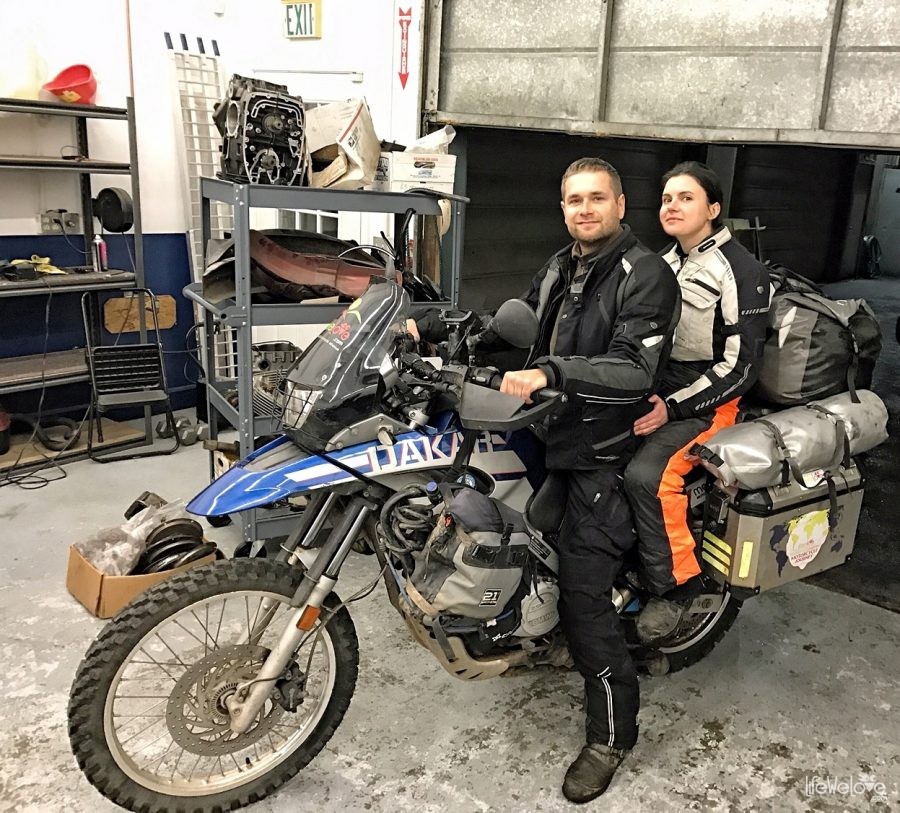 Rear shock
Our Dakar must carry on the back 210 kg, including 60 kg of luggage, and us along with the full gear. A long journey with such load, and with the original shock absorber is a high risk that we did not want to take. Especially after reading the PANOMOTO blog, where the author describes problems with the original suspension. After replacing the shock absorber with Hagon he also did not get far, and he had to resuscitate it on the guarantee and that did not help for long anyway. Only after installation of the WP-Suspension shock problems ceased. It is worth mentioning that he rode just by himself.
WP-Suspension does not longer produces shock absorbers for motorcycle BMW F650 GS Dakar, so we had to look for something proven and available on the market. We were looking into Ohlins, Wilbers and Touratech. Price for Ohlins shock with hydraulic preload adjuster (HPA) to Dakar is about €1 050, and for Touratech €895. The cheapest price was for Wilbers shock – about €630. However, after reading the opinions and characteristics, Wilbers did not seem to be the right choice. The shaft of this shock is 14 mm and it has 10 mm of preload lift. So it's not enough for the lagguage that we will carry on our motorbike. On the shock absorbers' market another player appeared from Holland, TFX Suspension Technology. On the advrider.com TFX receives good reviews. So we have chosen TFX140 Emulsion Shock for our expedition.
You can see its specification below:
Large 16 mm chrome induction hardened shock shaft ensures durability and reliability,
tractive preloader with 15mm lift and thus a greater range of adjustment to the needs,
externally adjustable rebound damping,
cylinder made of hard anodized aluminum, which eliminates overheating on the long-distance on though roads,
low friction X-Ring seal eads with backup rings for reliable shaft sealing, even in the most extreme conditions,
5 year manufacturer warranty.
The price for TFX 140 Emulsion Shock is about €830. Fortunately for us, TFX supports travelers and we got a discount :)
When ordering, you have to specify the weight of the driver with gear (jacket, pants, helmet, boots, gloves), the passenger and luggage in order to assign the appropriate hardness of the spring. I would advise you to take this seriously and thoroughly weight yourself with clothes, in all the layers. Do the same with luggage, squeeze into cases and bags as much as you will actually carry on your travel, fill up gasoline canisters, bottles of water and so on. It's even good to add couple of kilos extra because on your trip you will usually have some additional stuff, such as more water. Poorly selected spring will worsen the driving comfort and grip, and thus it will affect your safety.
TFX 140 Emulsion Shock in use
After placing an order, I waited 2 weeks for shock absorber, then still had to mount it. We didn't have too much time for the correct test of the suspension before shipping our motorcycle to the expedition through the United States. A few rides two up with the part-luggage, a few adjustments of preload and rebound damping and we felt a satisfactory comfort.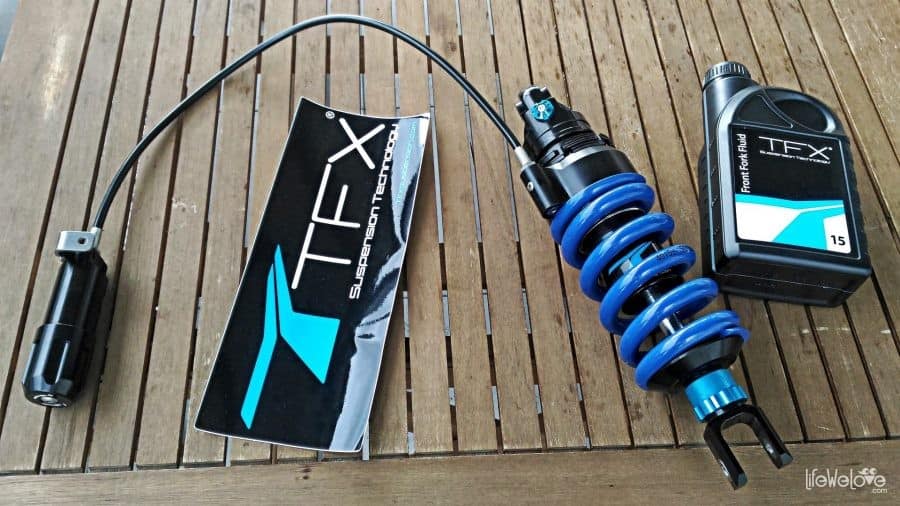 For 6 months we were traveling on different roads of the United States. We were crossing the canyons, dry rivers, and sometimes we took an offroad, which we should not have taken and we regreted that we had not taken any easier roads. We drove steep, winding mountain slopes with large stones scattered, on which we barely could ride. Sometimes we couldn't ride at all, only pushed the running motorcycle in the first gear, or we had to lift it, because every few hundred meters I was falling down on the rocks. It happened that a 10-mile stretch was taking us a few hours. Our Dakar was jumping on the rocks, got buried in deep sands, reached difficult high mountain passes, fell into so big holes that Liwia, as a passenger, was almost catapulted from the seat. And we never had a problem with rear suspension!
However, on some deeper holes, suspension was often bottoming out and causing back pain. I appreciate customer support of TFX Suspension Technology, they always respond very quick to my emails, regardless of the time of day. So after informing them about the issue with the rear shock bottoming out, on the same day they replied that if we were close to San Francisco their partner could adjust the shock absorber, free of charge. Fortunately for us, we were then in Santa Cruz, just 15 minutes away from the service BeemerShop, which is the distributor of TFX in the United States! At the place, after the measurements, it turned out that the spring in our bike was too soft and operating range of the shock was too small. Even tightening it was for nothing. We just had to install a harder one. BeemerShop's crew is made of specialists with decades of experience in the industry of shock absorbers. After carefully weighing the luggage and ourselves they chose a suitable spring, for which we had to wait a few days until it arrived from Holland.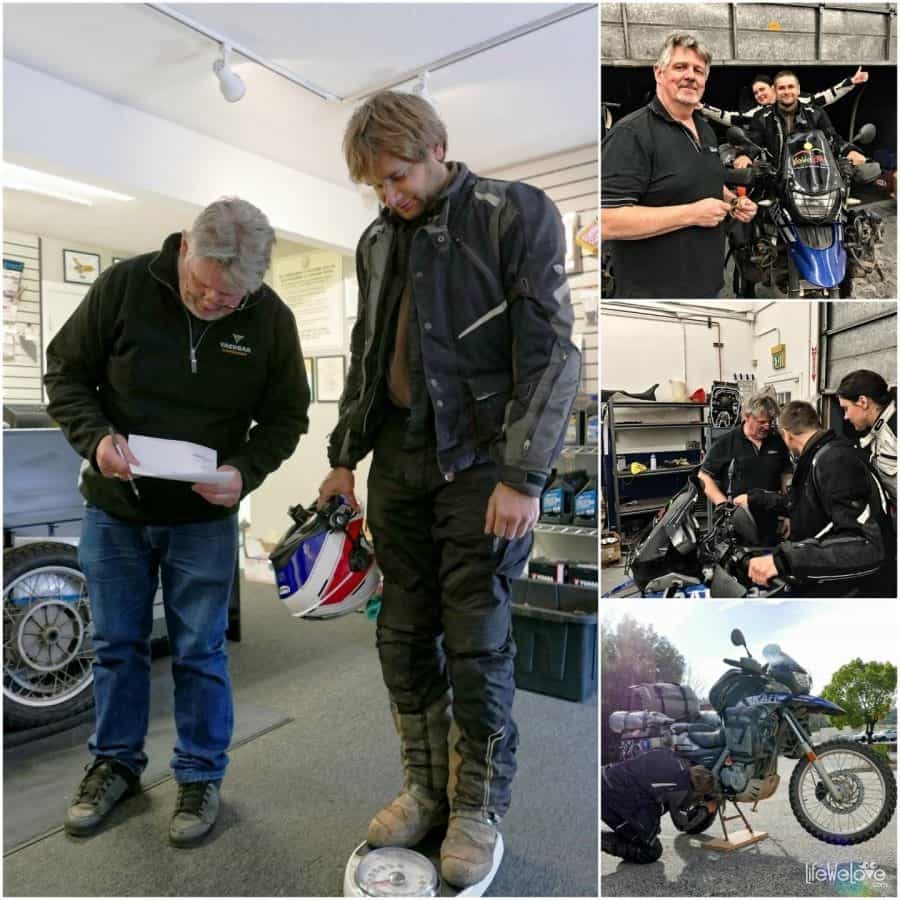 There is no chance that the spring adjusted to the weight of the two of us in a full gear and all the luggage would work smoothly when riding just solo without any luggage. Besides, the preload's range of the spring is too limited to set that. The adjustment is sufficient to soften the shock absorber for driving without a passenger with full cases or two up with less baggage.
Our motorcycle with the new spring installed, became higher and now we can ride it smoothly on challenging roads, with a better handling. On gravel roads our Dakar flits like it was made for it, with no loss of grip and with blissful comfort for our back.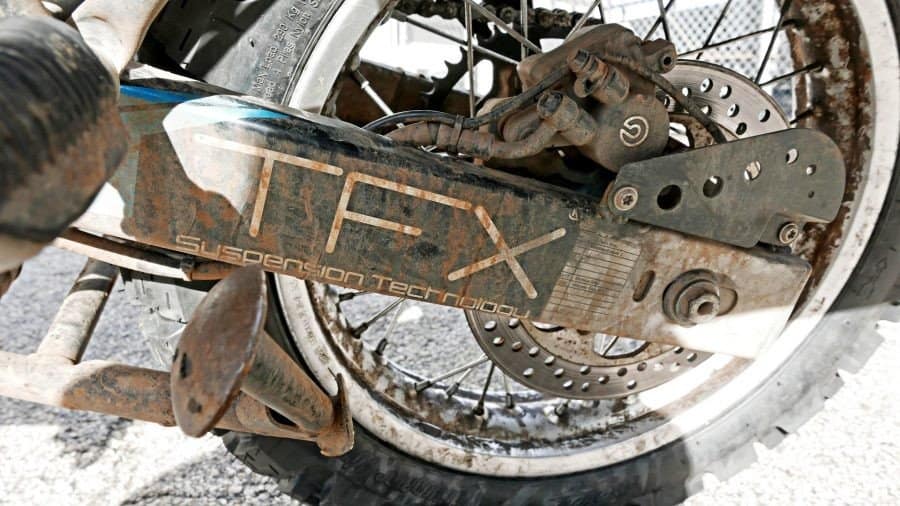 We drove more than 30 000 km with the TFX 140 Emulsion Shock in a variety of dirt roads without any defect, proving that the shock absorbers by TFX ensure reliability and durability even in difficult conditions.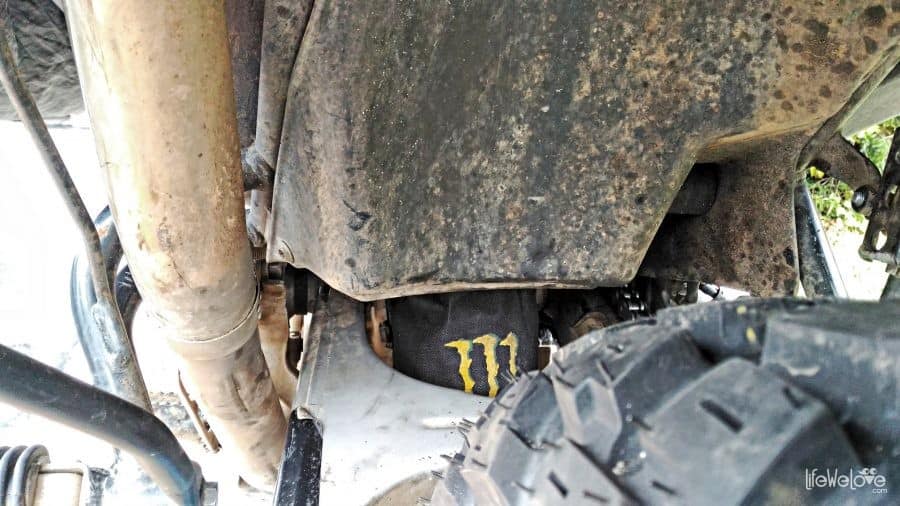 Front suspension
A heavy load on the back also affects the front suspension. In our BMW F650 GS Dakar there is no regulation in a front suspension sa I could only replace the springs with progressive ones and use a denser oil. And that's what I did. Progressive springs along with the 15W oil I ordered from TFX company together with rear shock. Motorcycle no longer dives when braking, as it happened with linear springs and 10W oil.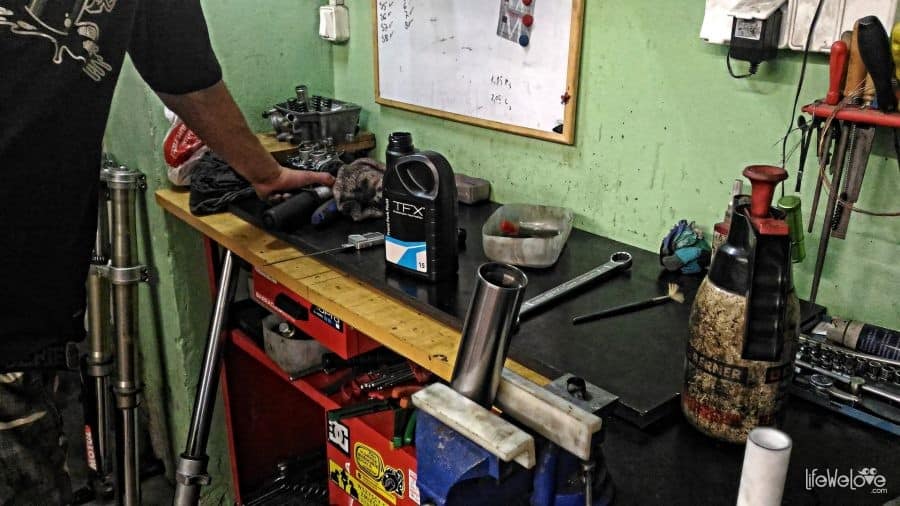 I also replaced the seals and set up the plastic front forks protectors. In the USA we drove through many deserts, where the sand not only obstructed the air filter, but also penetrated into seals in the front suspension. As a result, the seals started leaking and the oil got out to the forks. Standard anti-dust seals apparently don't do a good job or they are too old. And then I simply know that I will have to replace these damn seals. It's a lot of work or an extra expense for the mechanic's job. However, in the USA I've found a great tool to repair the seals. As it turns out, in many cases, or even in the majority, the seals do not require replacement but clearing the sand that has accumulated in them. For $6 I bought this tool and it really worked. After cleaning the seals, from which I did take out a lot of sand, they stopped leaking. The name of this tool is Seal Mate and can be purchased on the manufacturer's website, which also displays video of how to use it.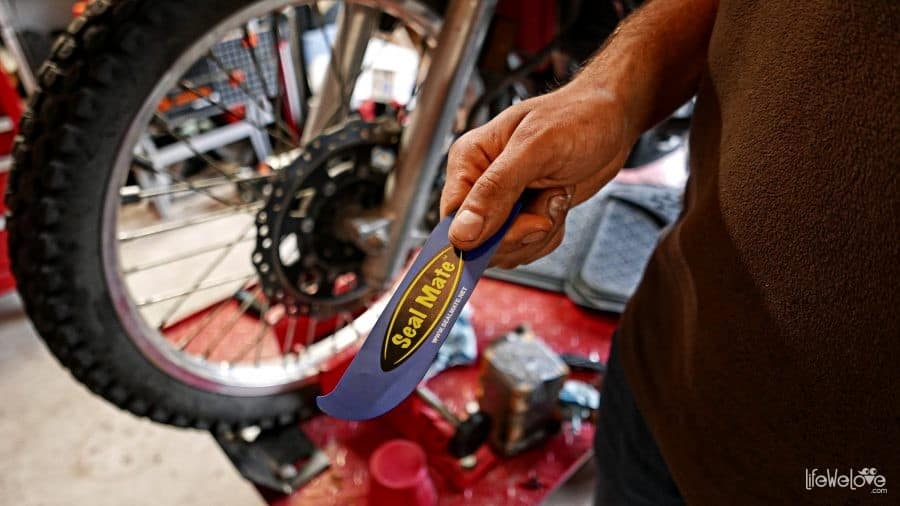 In fact, it is a piece of plastic with an appropriate thickness and a hook-shaped edge, which pulls out the dirt from the seals. I think you can even make something like that by yourself and try to use. In my case it helped me repair the seals, so I saved time and money and Seal Mate landed in my toolbox as a must for every motorcycle expedition. I cleaned the seals following instructions of producer's video and did the same with the anti-dust seals because they were not clean neither. Questioning the suitability of anti-dust seals I put neoprene covers on the pipes, which prevent dust coming inside and along with the plastic front forks protectors do the job well.