It is commonly known that the United States do not belong to low-cost countries. Especially, when we come with a currency weaker than the American Dollar. Our plan was to travel through the USA for many months on a daily budgets about $35 for two of us and including the cost of gasoline. In order to do that, we had to almost completely give up on rooms rental and simply rely on our tent, camping in the wild and support of travel communities. The list of useful applications on Android as well as websites was constantly expanded on the go. Often, it was enriched with recommendations of other bikers, cyclists and backpackers, who also value the unforgettable experiences of a long tramp above short-lived comfort of all-inclusive vacations.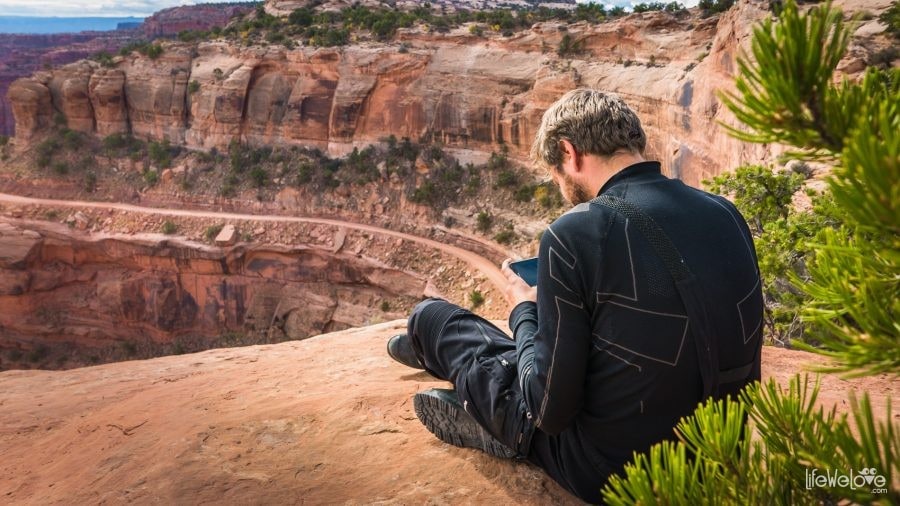 Spending in the USA
While campsites in the US cost $10-35, the cheapest motel rooms are available for minimum $90. It seems that in recent years the prices of everything have increased there. Even a famous hamburger with fries is rarely offered today for less than $12. A bread costs $1-5 (the less spongy-like, the more expensive). When shopping for groceries for the next 2-3 days for 2 people in the cheapest market, limiting ourselves to the absolute minimum and drinking a tap water (which is common in the US), it is hard to pay less than $35. Of course, for people who don't read labels at all, there is plenty of relatively cheap food. We just treat food like kind of a fuel for our bodies, the junk one won't keep us rolling for long anyway, it can only enlarge us (and I'm already extra compressed on the back of our bike, so putting on weight is not an option). Speaking of gasoline, if you come from Europe, your wallet will like it: $2-3 per gallon (3.8l).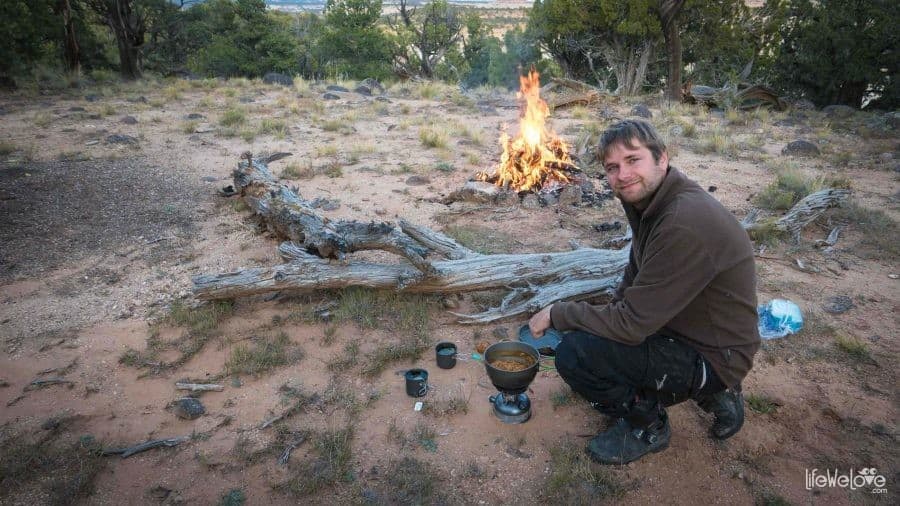 SIM card in the USA
Internet has significantly changed many aspects of traveling on your own. There are so many websites and forums that unite travelers, users of certain means of transport or even particular brands. Many times you can rely on help of these communities, even in terms of accommodation. Also mobile applications are irreplaceable when it comes to quick check of local services. Strangely, it was quite a challenge for us in the US to find Internet connectivity in general. It is not an issue in big cities, but in the vast wilderness and national parks (in fact, the areas where travelers spend most of the time), you can rarely get GSM signal. And even if you do, it is not so easy to find a SIM card with decent monthly transfer for a reasonable price. For example a subscription with 2G from Verizon would be around $35 per month.
We wanted to be sneaky and find the cheapest possible option in terms of mobile phone calls and Internet. We found Freedompop SIM card for $10 on Amazon. You buy it once and the basic subscription is free. Each month you receive 200 MB of transfer, 200 minutes of talk time, 500 SMS and 100 minutes of international calls. You can call and text, but only if you have Internet transfer or use WiFi. Along with the new number you also receive an online account. You can use this account to invite friends, other users of this SIM card, and get some extra megabytes in return. It is 50 MB for each new contact added to your network. You can add up to 10 buddies and your monthly transfer will increase to 700 MB. There is even a website where people share their e-mails to invite each other and rise transfer credits. We checked, it works. Unfortunately, the quality of phone calls is poor. Often the conversation is interrupted or you can't connect at all, even with good WiFi. The Internet works well though and 700 MB for free is a good deal compared to the offers of other network providers.
In order to make phone calls, we also bought H2o card for our second mobile. On Amazon it costs $10. In the first month it gives an unlimited number of domestic calls. Later it is 5 cents per minute and 5 cents for SMS. Everything is cool, but what you may not necessary be aware of (because it is written in small print in the offer) is the fact that you also have to pay the same charge for each received call or message. Your credits go down quickly. MMS was not always delivered to me. Your account must be charged at least once every 3 months. Maybe it is not the ideal solution, but it was still the cheapest option we found.
Feel free to comment below if you have some other recommendations and proved services.
Android apps to make travel easier
Below you can find a list of Android apps, which made it much easier for us to travel on low-budget across the USA and other countries.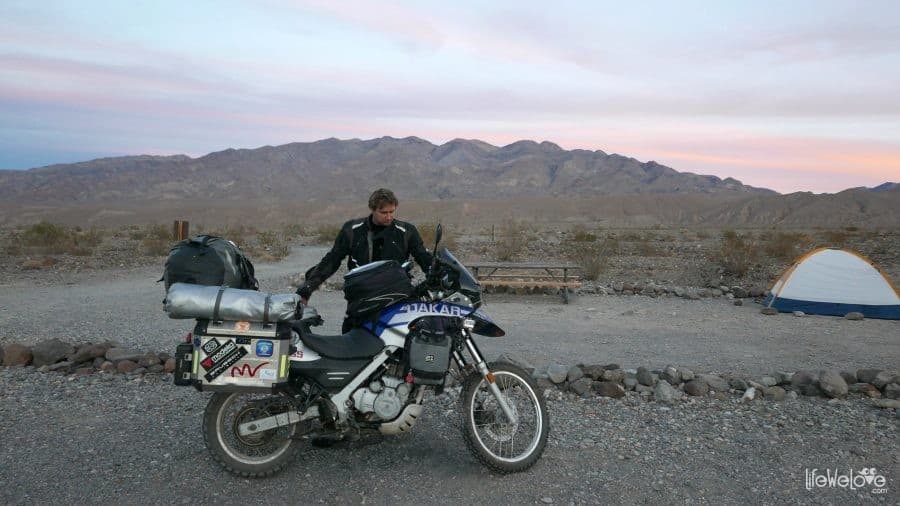 Websites useful for travelers
We encourage you to familiarize yourself with the following list of sites, especially if you are going on a big trip, searching for new experiences, wanting to get to know the locals and their traditions, work in exchange for accommodation or volunteer.
Desktop program for planning routes
TyreToTravel is our favorite program for planning routes. You will need Internet to use it because it utilizes Google Maps. The planned routes you can share and upload to your GPS. The app is constantly developed by motorcyclists, who created it in response to their own needs. Without spending money on advertisement, the tool has been popularized among bikers and travelers all around the world. Today it has over 50 K users. The program is in free and paid version. The paid one allows to additionally customize routes, check gas stations availability etc.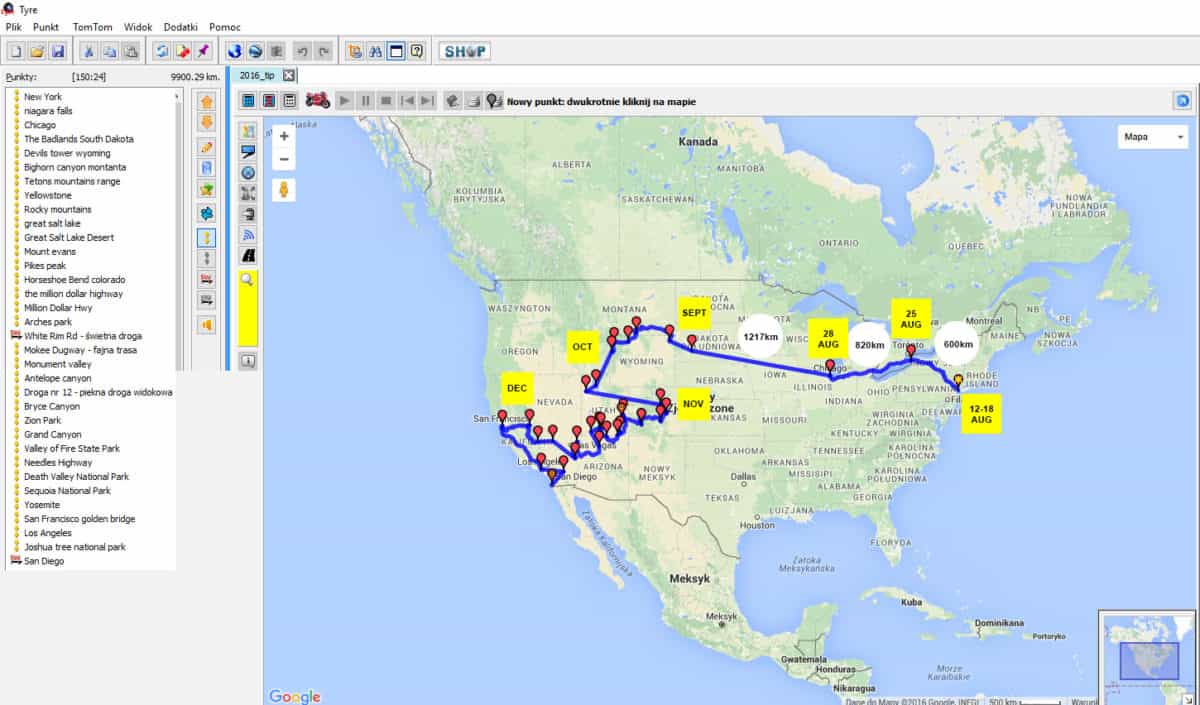 Perhaps we have omitted some valuable app or service that works for you? You can help us extend the list by sharing your experience in the comments below! :)