You see things vacationing on a motorcycle in a way that is completely different from any other. In a car you're always in a compartment, and because you're used to it you don't realize that through that car window everything you see is just more TV. You're a passive observer and it is all moving by you boringly in a frame. On a cycle the frame is gone. You're completely in contact with it all. You're in the scene, not just watching it anymore, and the sense of presence is overwhelming…
Robert M. Pirsig, Zen and the Art of Motorcycle Maintenance
…and cutting so through the space we are in it fully, sense it, feel the wind, the heat of the sun or rain drops hitting our helmet. Sometimes we have to face the forces of nature and the vagaries of the weather. When going on longer journey it is difficult to predict the aura, which will accompany us on the road. We should be prepared to ride in the rain and armed with appropriate clothing which ensures comfort of travel.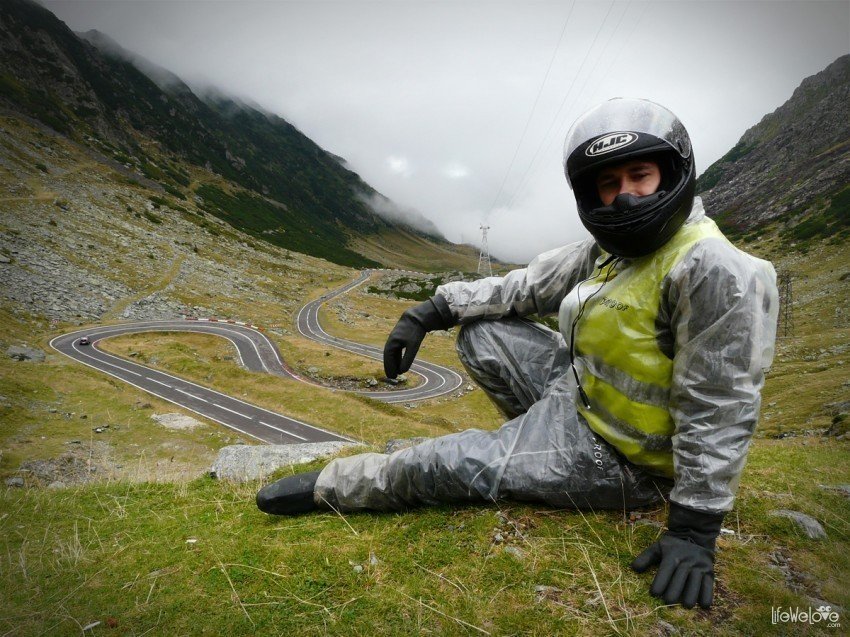 Sometimes me and Liwia had to drive in bad weather when it was raining heavily all day and I think we wouldn't have gone far without feeling dry and warm inside our suits, gloves and boots. And such comfort can be provided only by suitable rain suit for bikers. We have learned from our experience that  rain-off waterproof motorcycle gloves and boots offered in many stores are a waste of money, and that only gum can effectively prevent the rain. We can also share our experience with two rain suits offered by Louis, one of which in general should not be in their range, or any other store's.
OneWay Suit from Louis – only its name is apt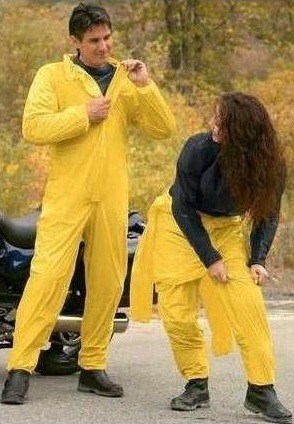 At the beginning I would like to warn against buying the rain suit Louis OneWay. We bought two of these once because we wanted to save money, and it seemed to me that if Louis sells them, it cannot be some cheap Chinese stuff. I was wrong :) It is a Chinese product, of a very poor quality. Already when first trying it on at home, its zip got broken. Although somehow later we managed to fasten it, the uncertainty and bitter taste of money thrown away have left.
Fortunately, it is no longer in Louis'es and many other stores offer, but unluckily, in a few shops you still can buy it at the price of EUR 12.
(Non)waterproof overlays
A few water-resistant solutions have passed through our hands and feet. First, I gave a chance to sewn overlays for gloves and boots. The first ones I tried on gloves costed about EUR 7 and were made of nylon. After about 20 minutes of driving in the rain my palms were soaked. I decided then to spend a little more cash for new overlays. I got interested in products from Buse, which were said to be tested by German motorcycle magazine and recommended.  They costed EUR 12 and after 20 minutes of driving in the pouring rain my gloves were soaked. :)
To protect shoes I used Modeka's overlays for EUR 18. When it comes to water resistance, they were fine, but after two uses the overlays began to tear near stitches around the sole. What is worse, sometimes they were catching a shift lever. It was really irritating as I was afraid of fall after stopping when my leg was trapped at the lever. These overlays are very delicate. They rip rapidly, and once they start to rip, they rip up like an old sheet.
On hands and feet latex is best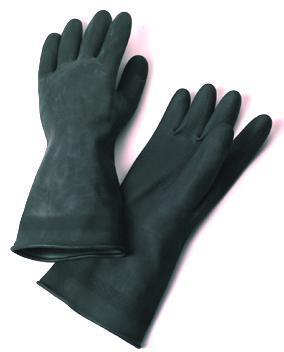 When I realized that sewn covers made of nylon or polyester are some slick dud, I started to look for something made ​​out of rubber. In Louis I came across latex gloves and rubber boots that immediately struck me as the perfect solution. The rubber gloves and boots are 100% waterproof. The underside of the glove is made so that it does not slip on grips. Besides, they are elastic and resistant. The advantage is also the five-finger form, rather than two, as it was in case of the overlays described in the previous paragraph. In practice, it gives a better control of direction indicators, lights, clutch and brake lever as well as of other devices that require pressing or switching. Gloves are long and cover most of your forearm, minimizing the chances of dripping the water into the sleeve.
Tip: When purchasing latex gloves, better take a size at least once bigger than for the usual ones. Otherwise they are likely to be constricting, difficualt to put on and reducing your driving comfort.
Current price of the gloves: about EUR 9.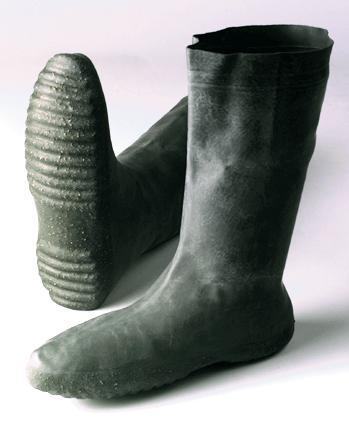 With the rubber boots we were not disappointed either. They cover and protect our travel, soaking shoes and perfectly adjust to them. The non-slip sole really does its job well and puts aside the fear of slippage on slippery surfaces.
As in the case of gloves, an appropriately larger size of wellingtones whould be selected. Definitely. Although they are resistant to stretching, it is still possible to damage them by pulling too hard. We know it well from experience, because we made ​​the mistake of buying a pair of the size of regular shoes for Liwia and now we both have to put much effort every time she puts them on. It is stresfull in some cases, but not as much as comical it looks. :P
The rubber boots cost about EUR 16,5.
Proof Semi-Opaque, two-piece rainsuit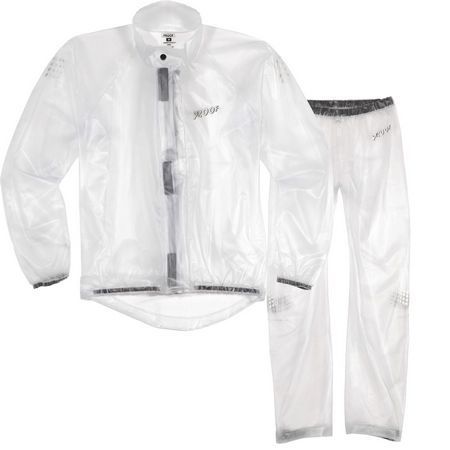 Made of semi-transparent, waterproof PVC, the product seemed to us to be a good and inexpensive option also offered by Louis. What we like about two-piece suits is the fact you put them on and off easier and can wear only one part if you prefer. Both the jacket and pants we put on our motorcycle clothing. Elastic drawstring at the wrists, seam and waist make it fits well, while the trouser leg's width can be adjusted with Velcro. The jacket zip works smoothly and is covered by an extra layer that can also be buttoned up. The back is cut extra long to prevent getting water into pants.
And how is it in practice? Definitely a big plus is the speed and convenience of putting on and off the suit. As for water resistance, it meets our requirements, although it was not entirely watertight in my case. For some reason the inside of my trousers in the knees area is always a little bit wet. Somehow water gets in there, but it is so little that I do not even feel it. After several hard struggles with the rain in season 2013, my suit has not survived without a damage. I discovered its structural defects. The clever elastic drawstring at the wrists got broken, just ripped. Fortunately it did not affect its water resistance and only its aesthetic look. I could continue to use it. Further damage was no longer such a trivial, because the jucket ripped on the back on the lenght of about 15 cm, when I was putting it on. It happened during our expedition to the Balkans, when I took a set of patches for repairing the mattress. It was a very good idea! I was able to glue the split and it works well so far, nothing leaks in.
In the product offer you can read that when packed, the suit takes up little space and you can easily fit it under the motorcycle seat. Under the seat of our F650 GS it does not fit and generally the size of the set is not so small.
The price depends on size and is EUR 32,5 – 38.
You can boil in it
Clothes that are impermeable to rain, also do not transmit any air. When driving in the rain they give us a desired warmth and dryness, but as the rain stops and it gets hot, the lack of throughput of the air can be felt and you can "bring yourself to the boil". So we always hold on with putting the suits on until the last moment, which is not always a good idea. :P
What to choose?
As a general rule, the motorcycle industry stays away from cheap Chinese intermediates, even when it comes to products out of the "top shelf". Sometimes, however, even to a reputable shop some Chinese black sheep sneaks in, such as the mentioned above Louis OneWay suit, which has beguiled many bikers with its attractive price. Also accessories of respected brands happen to be a total crap. I think that before you buy rain protection clothing, it is a good idea to dig a bit on the web and find products tested by individuals not associated with the industry.
We already know that boots and gloves are best protected by overlays made out of latex. Still, we do not have any clear favorite among the waterproof outfits, although the Proof Semi-Opaque serves us to the present day. So if you have something interesting to share or recommend, go ahead, feel free to leave a comment below, we are eager to try something new.