Hundred Curves Road is not only one of the best motorcycle or bike routes in Poland, but also one of the most interesting touristic places in this country. When negotiating dozens of bends (or perhaps exactly 100, as the name suggests), you should also stop at one of many parking places and submerge yourself into the surrounding forest. You will find paths that will lead you to treasures of the Stolowe Mountains (also known as the Table Mountains, Góry Stołowe in Polish).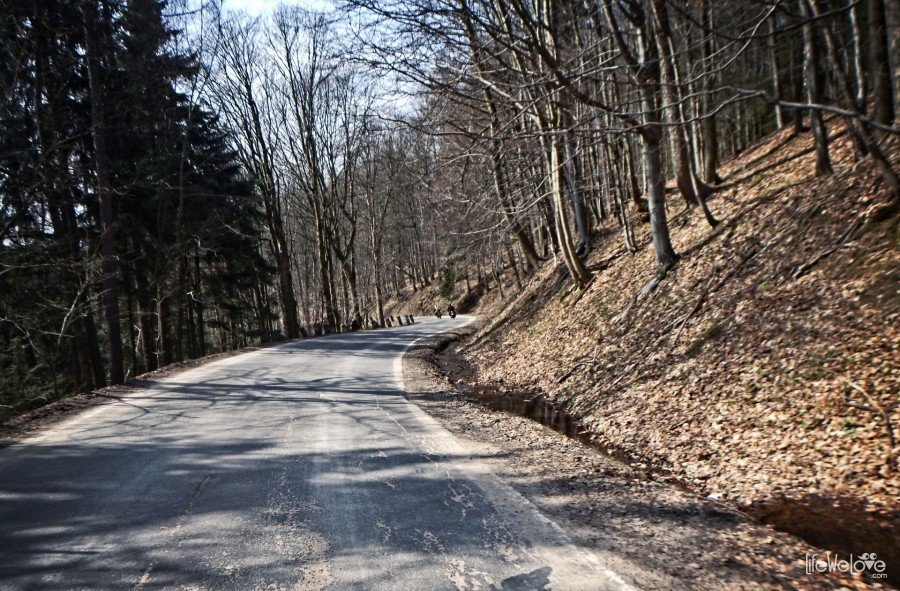 It is not surprising that Hundred Curves Road attracts visitors from around the country. The route crosses the National Park of Stolowe Mountains, winds gently uphill among the pillars of rock, between spruces, pines and beeches. Here and there you can see mysterious stone forms, towering above the road or sandstone faces carved by nature million years ago, staring at you from between bushes. In the past, the route was more spectacular, when its slopes were not so wooded and you could admire a view of surrounding hills.
Today the road is surrounded by a mixed forest which adds different tones and colours seasonally and enhances positive experience of this space. In summer, the road gives you a desired escape from the city smog, when soothing with shadow and refreshing with scent of pine needles. In autumn you can feast your eyes on the blaze of colourful leaves and shafts of sunlight coming through the tree tops.
In late autumn it can be a bit dangerous, because the temperature drops in more forested areas and the roadway becomes broad-leaved, wet and slippery. At that time you are also likely to come across mist.
I would say the technical condition of the around 23 km route is good. Some sections of the road have not been renovated yet, but they are okay to drive. Most of the time you will be cornering on the road with a great pleasure, enjoying a good surface. Especially Stroczy Zakret (bend called Mother-in-law's Tounge), where the road leads uphill and makes a full circle!
The route can be extended by driving one of the Owl Mountains passes.
Info about the route:
| | |
| --- | --- |
| Distance | 23 km |
| Start / finish | Radkow – Kudowa Zdroj |
| Surface | In some fragments asphalt is poor quality |
| Hazards | In the autumn the road might be covered by many leaves |
| Attractions on the way | Hiking trails through the Table Mountains, Błędne Skały, (Rock Labyrinths), Szczeliniec Wielki |
| Max altitude | 789 m a.s.l. |