I remember how thrilled we were back then. Our first self-reliant, 3-week tour into Europe, by the freshly acquired 11-year old BMW GS. For the first time at the Eiffel Tower, on the Cote d'Azur, in modern Monaco, on the alpine curves, and at last in green Switzerland. Our first adventure with couchsurfing as surfers. Our first video, almost a video travel journal, painstakingly edited from very dubious quality films from my camera. But during the trip – so many colours, emotions, delights and friendships! It is indescribable. It has probably turned the keys in our fast beating "ignition switches" and drives us until today.
Have a look yourself :)
Info about the trip:
| | |
| --- | --- |
| The route | 8 countries: Poland >  Czech Republic > Germany > France > Monaco > France / Italy (the Alps) > France > Switzerland > Austria > Germany > Poland |
| Travel time | 3 weeks: September, 1st – 22nd, 2012 |
| Route lenght | about 5 500 kms |
| Total cost for 2 people | about 3 000 PLN = 715 euro (including petrol) |
| Accomodation | Couchsurfing, camping |
| Documents | Passport / ID card, European Health Insurance Card, Motorcycle Breakdown Cover (optional) |
As you can see in the map, the route took from Poland, through the Czech Republic and Germany, to Auxerre, the town in central France and to Paris. Then, from Clermont-Ferrand and the valley of extinct volcanoes, we were heading the south coast, taking the beautiful road A75 with the world highest bridge Millau. From the medieval fortified city of Carcassonne we continued to the east, along the Cote d'Azur, to Monaco, then through the French and Italian Alps, all the way up to Annecy, which is called the "Venice of France". From there, along the Lake Geneva we rode to Switzerland and took the lovely "47 bridges" road, to the alpine town Gruyères, famous for its cheese and then to Bern and Zurych. We got back to Poland through Austria and Germany.
Facts and myths about the Western Europe: Germany, France, Monaco
It happens quite often that before we set off, we hear from everywhere the "experts'" opinions about the places we plan to visit. We picked out France because of a few reasons. We had not been there yet, wanted to experience its south-north contrasts for ourselves and visit our relatives living there on the way. And such a "cyvilized" direction seemed to be just fine for the first moto-tour on our own. Today we can respond to all the advises we received and share our own experience. But only you can best decide if this is a destination for you. It fully depends on your personal preferences. But we can tell, we do not regret a single day of this trip.
So, these are the claims that circulated before our departure and how they reflected in the reality:
"Why to the West? People there have a very stereotyped imagination of Poles, and it's so expensive there, you chose the most expensive countries in Europe!"
It's hard to completely disagree, especially having in mind our last trip to the Balkans, where both prices and people were more favourable. But we try to never typecast any nationalities. If you go somewhere with a positive attitude, you just break the stereotypes and people also respond with kindness. On the other hand, we all know that stereotypes don't come from nowhere… We were kind of amused, when seeing that almost every host we met there, the first thing, assured us of having a lot of beer or vodka prepared. :P It made us feel like not really Polish sometimes, since we are not big alcohol fans.
I also need to stress here, that the mentioned distance of people from the West towards the "people from the East", usually does not refer to the *Couchsurfing.org community. Couchsurfing is made by people, who are open to other travellers, cultures and the whole experience is about getting to know each other, introducing own customs, making international friends, by always looking at the other person from a "wider perspective". That is why the couchsurfing adventure was great for us. And the money, instead of being spent on hotels and restaurants, were used in minimum amounts for buying a water, baguettes, cheese and fruits, plus the petrol of course. Add to it a whole supply of Polish canned food and you are ready to go! ;)
*) In case you don't know, Couchsurfing.org is a website through which people make their couches available for tourists, who visit their city or village. They simply host them, for free and can also count on members' help, while travelling through some other countries.
"You will be surprised by the beauty of Germany."
We were indeed. Just after we left the motorway. And because of that we were reaching the French border one day longer than it was initially planned. First we were surprised by the baroque Würzburg, where we met our first hosts. This Bavarian city reminded us of Prague. Maybe because of the fortress situated on the hill and the beautiful bridge leading to it. We remember Würzburg as a colourful and sunny city, with wine plantations (the franconian wine comes from there), splendid monuments of various epochs and refined episcopal residence surrounded by impressive garden. The residence is registered in UNESCO World Heritage Site and, as a curiosity, it was there that scenes from the movie "The Three Musketeers" of 2011 were filmed.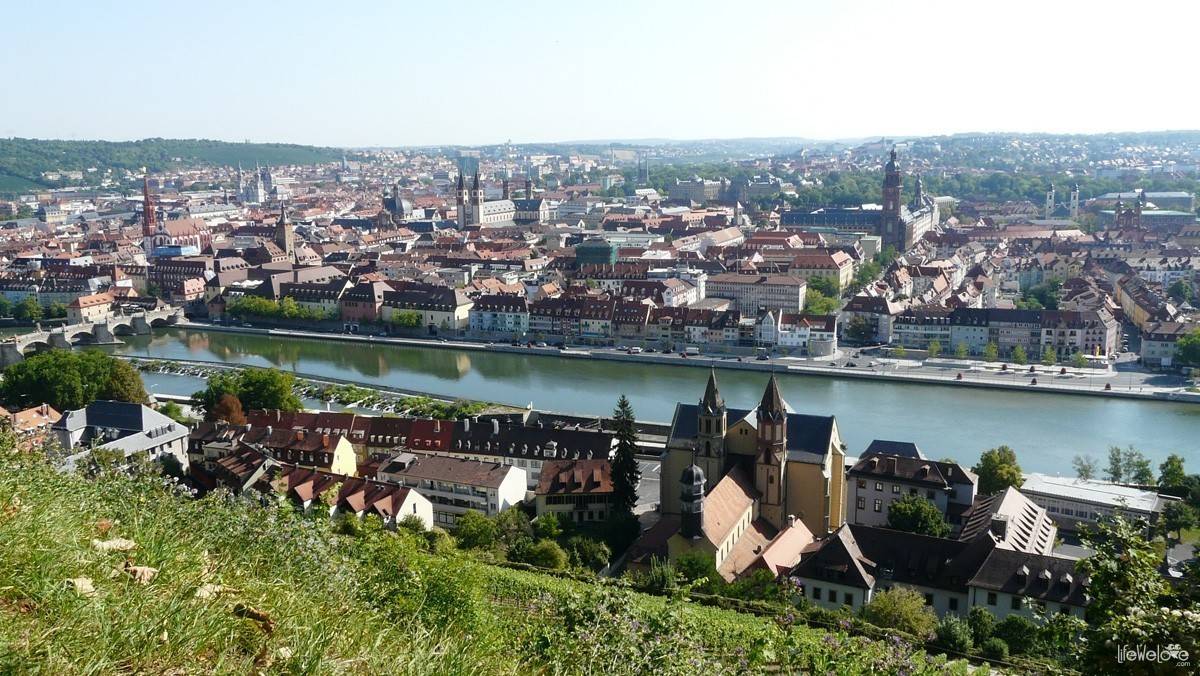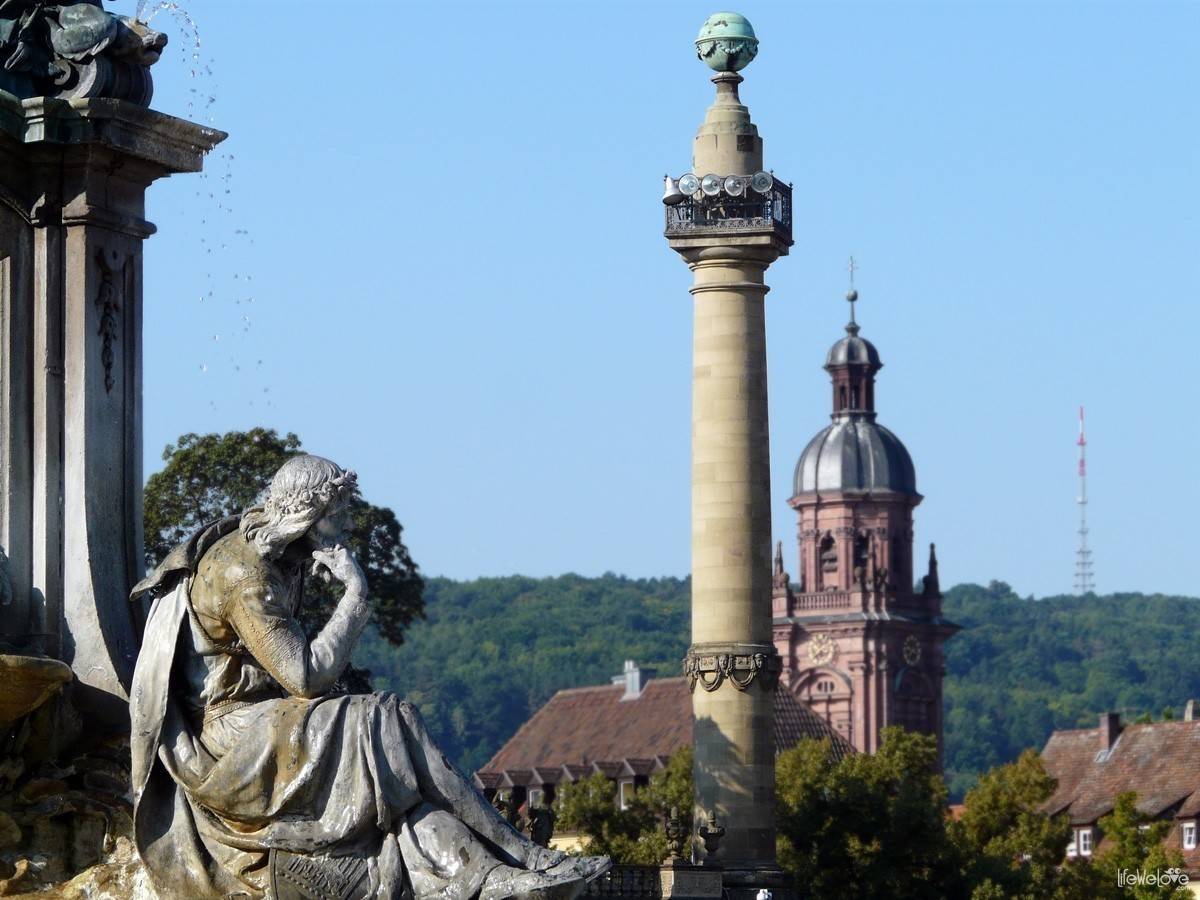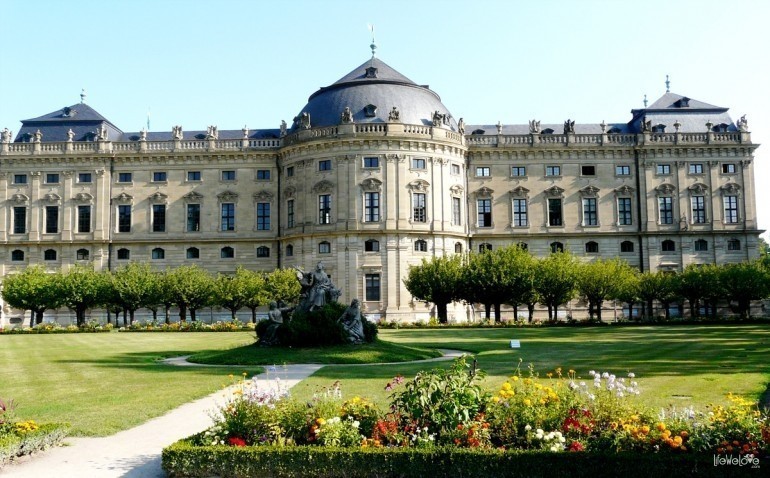 And then "the city over the moat", Heidelberg, located in Baden-Württemberg, with the oldest German university and the Gothic-Renaissance palace, Heidelberger Schloss, towering over the city.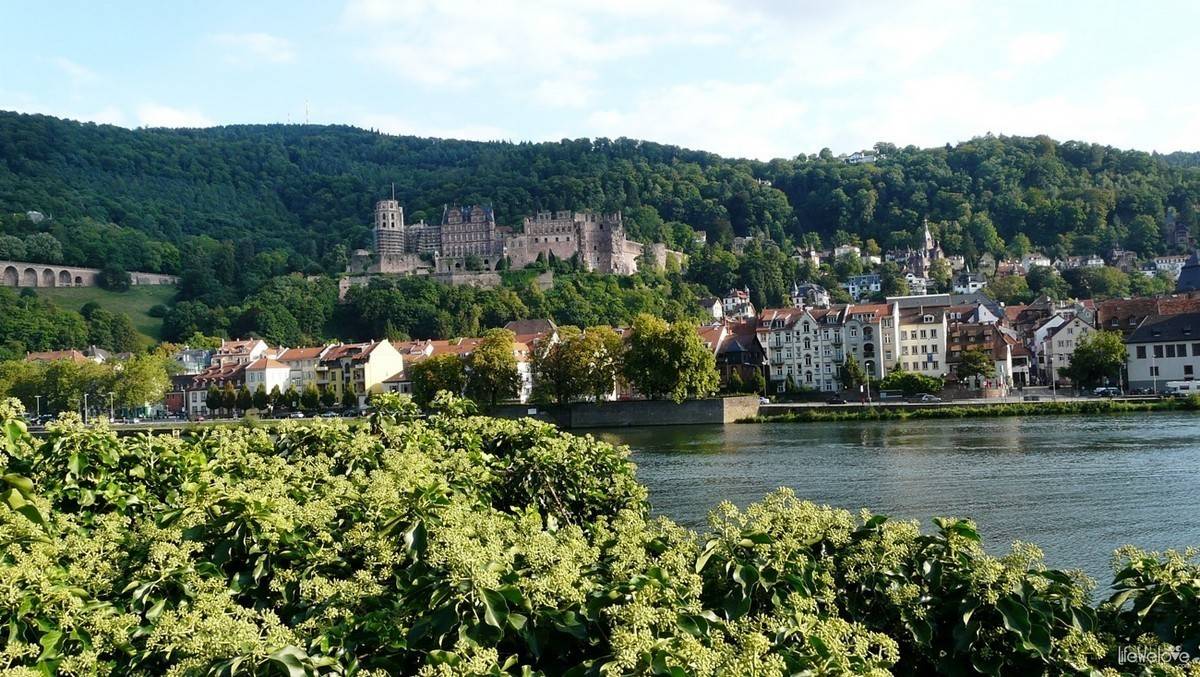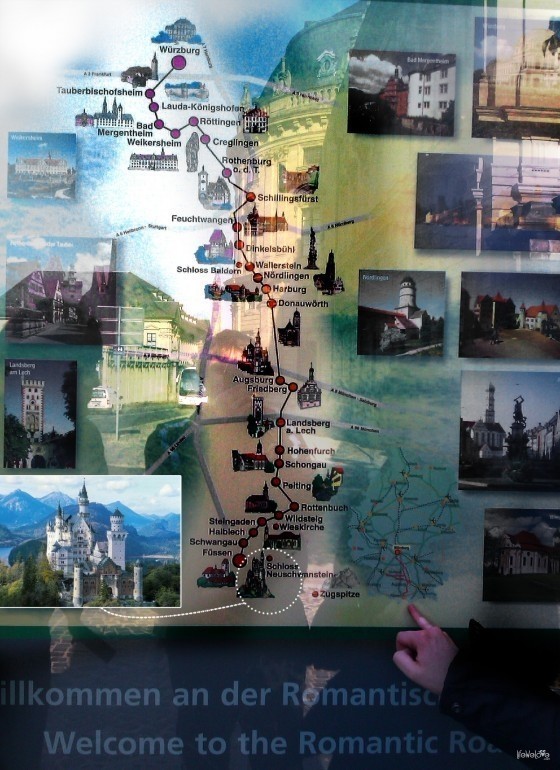 And between such marvels, we obviously passed the very neat villages and towns, fields of sunflowers, cows on the green, trimmed grass and, every now and then, arising castles on the hills.
Regarding the castles, an interesting trail for bikers can be, so called, The Romantic Road. It runs from Würzburg, through the historic, medieval cities and fortresses to Füssen and the worldwide famous, fairytale castle on the rocks, Neuschwanstein. The palace was built in the nineteenth century for King of Bavaria, Ludwig II Wittelsbach. Reportedly, Disney itself modeled on the palace in his fairy tales and the object also appeared in the pop-art Andy Warhal's poster. But most importantly, from this magic place you are very close to the Alps…
"The north and the south of France are two separate worlds: different climate, accents, customs, perceptible distinction between one and another."
Yes, in our case this theory has turned out to be true. The climatic differences, and with them different flora, fauna and degree of sunlight are fairly obvious because of different geographical location (France is quite sizeable after all).
So this is what the north of France looks like…
…and the south:
As for the linguistic and cultural separateness, it results from the history and the Mediterranean influences in the south, and the British in the north of the country. In the southern areas of France the Italian cuisine reigns. People from there say half-jokingly that their accent is more beautiful because it is more melodic and sometimes they add that Parisians are coxcombs, but cannot really reason this opinion clearly (something like Polish aversion to "warszawka").
"Learn French, because in France you will not cut a deal in English, they accept only their own language."
This is quite a common opinion about the French people. Often, when dealing with them, you get the impression that they recognize their language as the finest, cuisine as the most exquisite, monuments as the most handsome and basically all French things are the best, so what would they need English for. Especially in small towns we encountered an attitude of "either you speak to me in French, or I will not help, will not even try to". In the cities or tourist places this problem is not that common. However, knowledge of at least a few basic phrases in French is very important in breaking the ice in conversation and getting the favour of the French. At least show that you are trying to do something in this direction… And they will be the first ones to teach you French and will do it very willingly and patiently. It happened to us to be hosted by a French gentleman, who did not speak English at all, but it did not stop him from leading the hours-long, vibrant discussion in French and sign. And the sign language was the only fairly understandable element of this talk. The French phrases, by being constantly repeated were probably intended to finally stuck in our minds and teach us something. But for us it was very hard, especially the correct French pronunciation. Some of the French admitted that learning English is a hard nut to crack for them because of the technical issues, e.g. with an accurate tongue operating and it is difficult for them to have a right accent. They believe that for other nations it is easier and, in addition, it is in their nature to quickly discourage if something goes wrong. Perhaps this why this is what it is with English in this "proud" country. ;)
"Essentials on the native Frenchamen menu are frog's legs and snails. And baguette or butter croissant for the breakfast, of course. Oh, and wine with meals definitively."
Ok, the baguette and croissant, true. The wine's theory usually true too. But about the frogs' legs, not so much. They are not eaten en masse in France. What is more, we met native Frenchmen, who have never had a frog in their mouth or only on special occasions. Apparently it is because of the frogs protection. They need to import them all the way from Asia to put this rarity on the menu. The same applies to snails, which are reportedly imported mainly from Poland. We were lucky to taste all the famous French dishes thanks to the efforts and culinary talents of th French-Polish family who hosted us. We haven't eaten so delicate meat like the frog's one before. Snails in a garlic sauce tasted a bit like well-cooked mushrooms. All in all, we would say that if you have an occasion to try them, go for it!
"You'll never explore Paris in one day!"
Nobody had to tell us that. After visiting London or Barcelona we know well that even one week is not enough for famous capital cities. That is why, in Paris we just had to do a "speedy tour", which we don't like so much. But we only had about 8 hours to see the most remarkable monuments and places, so we needed a precise itinerary from point A to B, so that we could efficiently travel by metro. You can see below what our plan looked like. It is a proven proposition for a quick London sightseeing, since it was created by a friend of us, who also had been there, tested and later shared it with us (thanks Pawel once again!). Now we share it, so that if you would ever be in a similar situation, it may turn out to be useful for you too.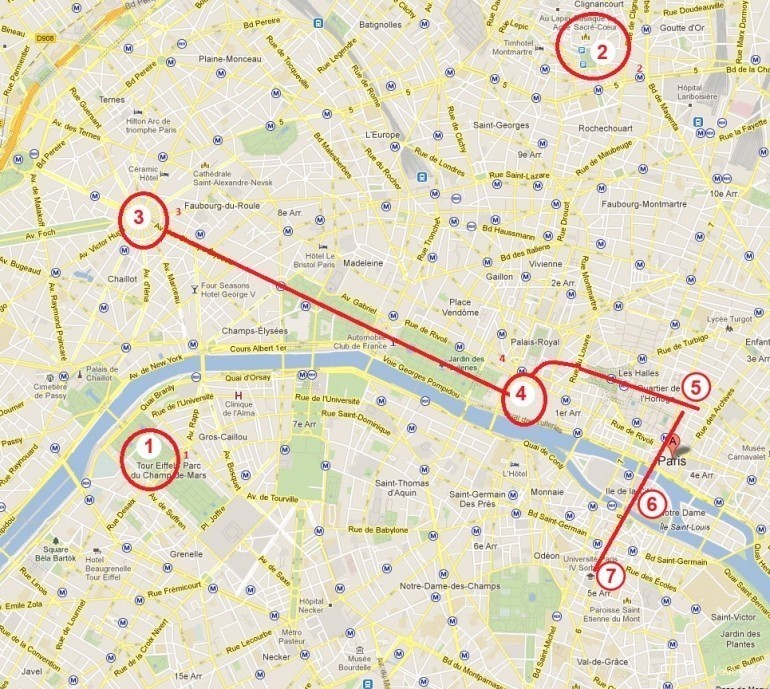 1. The Eiffel Tower and optionally the Warsaw Square on the other side of the river.
2. The Basilica of the Sacred Heart of Paris (fr. Sacre Coeur), with a nice panorama of the city, close to the Moulin Rouge.
3. Arc de Triomphe
4. Louvre
5. Centre Georges Pompidou
6. Notre Dame
7. The Jewish Quarter (narrow streets and a lot of little shops and cuisines)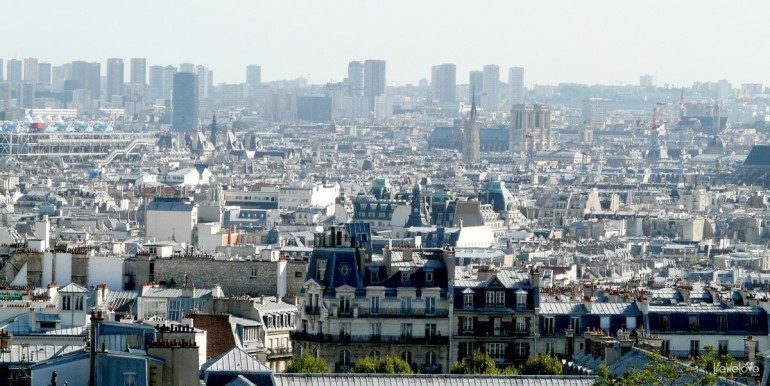 "Chaîne des Puys in the very heart of France  is a chain of extinct volcanoes – an extraordinary region and not so crowded by tourists, worth seeing."
Yes, it is, especially on motorbike. The routes are convenient, sometimes nicely meandering and scenic. Some interesting landscapes finally started there. See in our movie (12 min).
For the new flavours seekers I can suggest trying their local special La Truffade.
"If you need to quickly get from the north to the south of France, consider only A75 Highway, with the Millau bridge on the way"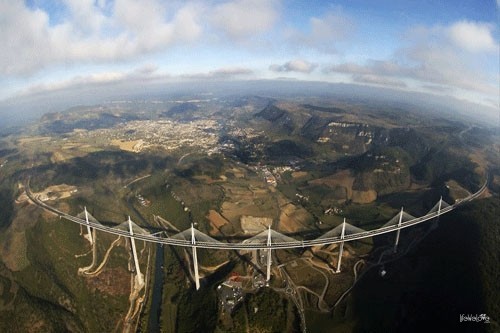 Definitely. In general, we always try to avoid motorways. We make exceptions only when we really hurry and this is what it was back then, because of some agreed meeting in Carcassonne. Honestly we can tell that the A75 highway is the most beautiful highway we have ever taken and it is free (charged only at the entrance to the bridge, which is an optional way). It runs  from Clermont Ferrand to the south. The road goes through the rocky canyons or green hills, where every so often some historic fortresses appear on the horizon. Almost every town on the way invites you with some tourist attraction – a castle, reserve, park, nature monument. And you will probably want to go through the Millau Viaduct, because it is the tallest bridge in the world. To imagine better how tall it is, consider that its mast's summit at 343 m is higher that the Eiffel Tower. Out of the season you pay about 6 euros to enter the Millau. If you do, remember to use the first exit to kind of a car park. It is easy to pass it and you do not want it, because it is the only chance to stop, see the fabulous view from the top, take some photos. Our French friends told us about it, but we did not have an occasion to take advantage of this tip. We took an alternative, but as picturesque route around the bridge. And there it is also easy to speed up and bypass some great spots for taking amazing pictures. I know what I'm saying, because I still cannot get over the haste we were in that day and the exceptional views barely skimmed over.
"The lavender fields in France make views for which it is worth going there."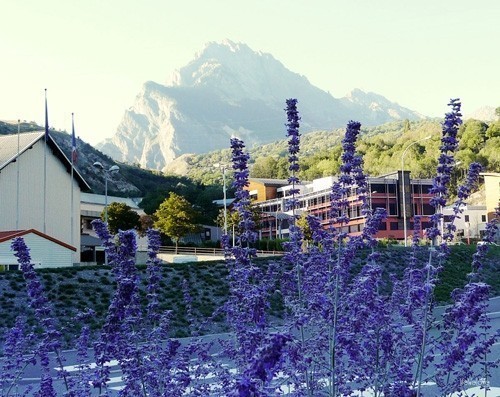 We believe so, but in order to experience that, you need to choose the appropriate time. Lavender blooms from early July, sometimes from the second half of June to the late August. We were at the beginning of September, so I only managed to grab a bunch of dry, but still aromatic lavender sprays, collected from the backyard's flowerbed. I love lavender, it is decorative and practical at the same time, due to an intense fragrance that not only refreshes the cabinet, but also deters unwelcome insects.
So if you want to embellish your visit in France with the marvellous, violet-blue landscapes, do go to Provence before the mid-September, before the flowers are being cut from the fields.
"Don't go to Marseilles! It's the most dangerous city in France, mafias and drugs,  give it a wide berth!"
We admit, after a number of such warnings we started to take it seriously. But life, ironically, market out its own route for us, which of course went through Marseilles and made us stay there even 2 nights. And you know what, we do not regret it at all! In fact, it was some of our best time of the trip. Marseilles is beautiful, interesting and if you don't roam around some poor neighbourhoods in the middle of night, in our opinion it is quite safe. One respected architect, when hearing our anxieties regarding his city, started to laugh and said: "Marseilles is not dangerous at all, not more than other cities, maybe it used to be, but we ourselves are willing to maintain this legend, because we appreciate the calm and the troops of tourists are not needed here."
We have such a nice memory of Marseille also because it was then we finally got off motorbike for a bit longer, put on some light cloths and rested in a truly "holiday" style. The sunny beach, chirpy stroll through the narrow streets up to the Notre-Dame Basilica on the hill of La Garde, a cruise along amazing Calanques (kind of the Mediterranean fiords) – we enjoyed all these moments and gathered new energy for further journey. And the journey… it was giving us more and more beautiful experiences with every following day.
"Saint Tropez? Don't get too excited to not be disappointed. It's the boondocks and kilometres of traffic jam, because no one gives up on Saint Tropez, expecting some wonders, frenzy and super stars."
That is the point. See for yourself in our movie. I am not saying it is ugly there. Anyway, are there any ugly places along the Cote d'Azur at all? Albeit, Saint Tropez really is more cosy and modest than tourists usually imagine. You get the impression that some much nicer and more interesting places can be found by the southern coast and Saint Tropez is simply overrated.
"It would be a miracle to find a host at the south of France."
Unfortunately it seems to be true. The southern, especially the reach and popular districts of sunny France are entirely flooded with tourists and we heard that couchsurfers who live there get hundreds of couch requests per month. You need to be really lucky or just look for accommodation in some less commercial towns. We managed to camp for about 20 euro per night in a tent in a little less popular sea resort Antibes and that seemed to be the cheapest option there.
"Monaco is beautiful… to drive through it."
Especially if you don't drive a super car and your wallet is not bursting at the seams from tones of euros. Because it is a city-country of reach people. Beautiful, modern and glamorous. But these views, ah…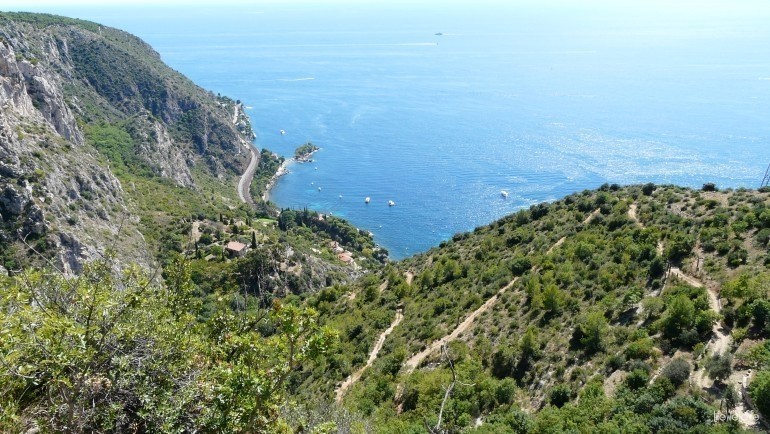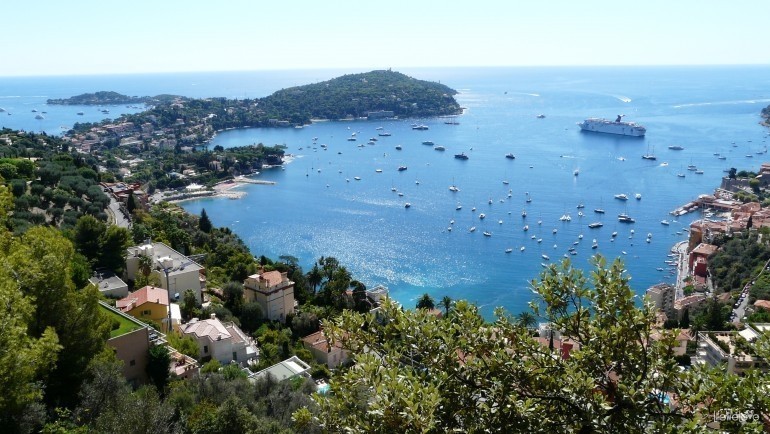 "The Great Alpine Road is one of the most beautiful motorcycle routes in Europe."
As I mentioned before, our journey to France was our first longer moto-tour and what the Alps offered us back then, exceeded our expectations. If you consider going to France, Italy or Switzerland by motorbike, you simply must ride through the Alps. Learn more about the Route des Grandes Alpes in "Motorcycle Routes" section.
"Visit the mountain town Annecy, called the little Venice of France, because it is lovely."
It is lovely and we regret that we had only so little time there. And the reason why it is called the "French Venice" I think the photos below will clear out. :)
And the next was Switzerland… I always wanted to visit this country one day. After spending two days in Zurich we even felt willing to move there. Why? It is a story for another post in the future. As for now, we wonder if you have similar reflections about France, if you also had a chance to visit the country. Maybe you were lucky enough to see the blooming lavender fields? Would you recommend any particularly charming places?